The Executive Secretary, Lift Humanity Foundation (LHF), Mr. Pius Oko, has said that young people, youth organisations and related groups in Nigeria have been working locally on a spectrum of adaptation and mitigation projects, actively participating in advocacy, national adaptation and mitigation actions, along with international negotiations.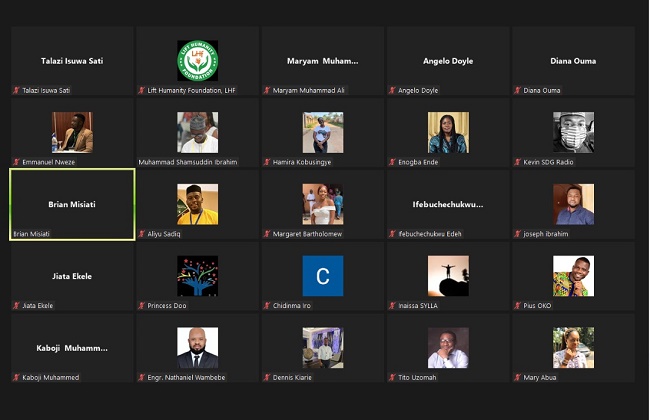 Oko made the submission in his opening remarks at a webinar on "Role of Youth in Ensuring Intergenerational Equity" held on Monday, August 15, 2022, in commemoration of the International Youth Day, which is themed: "Intergenerational solidarity"
According to Oko, the diverse initiatives of youths include awareness-raising, educational programmes, planting trees, promoting the use of renewable energy, adopting energy saving appliances and practices and community capacity building.
"Therefore, young people are and considered an important stakeholder group in the United Nations system and globally," he stated.
Oko stressed that youths face unique challenges largely underpinned by their lack of resources, recognition and power, adding that "they are regularly expected to speak with one voice on behalf of an entire generation but marginalized young voices are often unheard".
He called on policymakers to design new initiatives to engage youths, listing ways to achieve this to include:
Policymakers should recognise young people as diverse individuals with unique local knowledge and skills which can add value to decision making process and ensure inclusion of young people in decision making.
Policymakers must actively work on a strategy to ensure the opinions and ideas of marginalised young people are considered as valuable as their more senior colleagues.
Strengthen capacity of young people on awareness raising, advocacy, and mobilisation to participate in meaningful engagement to influence policy implementation.
Leverage on technology, skills development and global cooperation and collaboration of state and non-state actors including faith groups to transform the entire backbone of economies – industries, buildings, as well as energy and transport systems.
Oko continued: "We need to do more with less, creating growth that is both more sustainable and more equitable. The good news is we have the technology and young people to make this happen from smart grid technologies that enable the integration of renewable energy and electrified transport, to digital technologies that make manufacturing and supply chains more sustainable and resilient.
"It's time for the world to work together with young people. The scale of the problems facing humanity are too big for any organisation, sector or country to tackle alone. We need global ecosystems to collaborate and develop innovative solutions. We need countries to pursue common approaches with youths in areas like carbon pricing and to invest in technology and skills development."
Another speaker, Mr. Angelo Evan Doyle, Operations Director at His Choice Ministries from South Africa, said that, to ensure intergenerational solidarity we need a financial stable Africa for every woman.
According to Ms. Hamira Kobusingye, activist at Rise Up Movement from Uganda, in order to ensure inclusion and intergenerational equity, we need to build the capacity of school-age children on the climate crisis and empower women with same knowledge as the burden bearers of child upbringing in Africa.
Nathaniel Wambebe, Executive Director at AEA from Nigeria, stated that working together is no longer an option but a must in order for us to achieve great success.
"We must also build strong partnerships across the board, be it in policies, advocacy, and training, among others," he said.
Mr. Brian Misiati, Founder, Artspace Production from Kenya, stated that research and competence is essential in youths vying for seats on the table of decision making towards ensuring intergenerational solidarity and climate justice.
According to Ms. Diana Ouma, Programme Coordinator at She Leads Africa Regional Programme, Horn of Africa Youth Network from Kenya, stated that we must continue to advance climate change awareness and education to motivate youths and women.
"As we must promote eco entrepreneurship skills and partnerships thereby ensuring no one is left behind, thereby empowering young people to leverage their full potential toward achieving the much-desired Sustainable Development Goals (SDGs)," she stated.
According to the promoters, the capacity building webinar is aimed at promoting better collaboration and creating a platform to foster intergenerational solidarity with emphasis on intergenerational climate justice focusing on equity, finance, green jobs, education and opportunities for young people.
It was organised by LHF in collaboration with Ecocykle Limited, Global Initiative for Food Security and Ecosystem Preservation (GIFSEP), Break-Free from Plastic Awareness Initiative (BFPI), African Environmental Awareness Initiatives (AEA), SDGs Radio, The Commonwealth Youth Climate Change Network (CYCN), Africa Coalition for Sustainable Energy Access (ACSEA) and Pan African Climate Justice Alliance (PACJA).
The International Youth Day is celebrated annually on August 12, bringing youth issues to the attention of the international community and celebrating the potential of youth as partners in today's global society.
The Day also amplifies the message that action is needed across all generations to achieve the United Nations Sustainable Development Goals (SDGs) and leave no one behind. It also aimed to raise awareness on certain barriers to intergenerational solidarity, notably ageism, which impacts young and old persons, while having detrimental effects on society as a whole.