In the wake of the G7's announcement to limit global warming to 2 degrees Celsius (or 3.6 degree Fahrenheit), UN climate negotiators from the world's most vulnerable nations have questioned whether 2 degrees is too dangerous.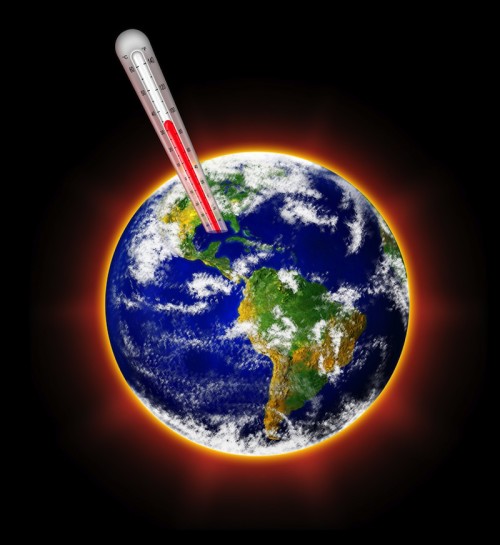 Unfortunately, their call to focus efforts on limiting global warming to 1.5 degrees was from some of the most powerful nations at the UN climate talks: India, China and Saudi Arabia.
Care International's Sven Harmeling has labelled this move "highly concerning", especially given the human rights implications of a 2-degree target.
This concern turned to protest, as young people gathered at the UN with banners of tropical storms. They then asked negotiators to "add their name here" if they believed that a 2 degree world was safe, noting that they would use their names for the "future disasters of a 2 degree world".
Recently, a group of global Human Rights experts, highlighted what they called the "human rights" implications of a 2 degree rise, calling it "the greatest human rights challenges of our generation".
They argue in line with the most recent report from the Intergovernmental Panel on Climate Change (IPCC) that people who are currently "marginalised are especially vulnerable to climate change", even at only 2 degrees of warming.
They also pointed the finger of responsibility squarely at "the heads of governments and their climate negotiators" who they say "represent the very last generation that can prevent catastrophic environmental harm to a vast array of human rights".
A U.N. report released earlier this year states that climate change accounts for 87 percent of disasters worldwide. This figure, it must be remembered, comes with only 0.8 degrees Celsius of global temperature rise that we are now experiencing.
However scientists are largely uncertain what the impacts of a doubling of current warming could be.
As Harjeet Singh from ActionAid International points out "In reality, the impacts of increasing temperature levels will not be linear, but will multiply what we face now several times over. What will happen at 2, 3 or 4 degrees Celsius of warming is unimaginable".
Those countries most vulnerable to the impacts of climate change have been concerned about the reality of 2 degrees of warming since the UN climate talks began.
As the Philippines Climate Change Commissioner, Mary Ann Lucille Sering argued earlier this year, "How can we possibly subscribe to more than double current warming given what less than 1 degree Celsius has entailed?"
Seeing currently heads a group of countries within the UN climate talks known as the Climate Vulnerable Forum, who argue that the 2 degree target, reinforced by leaders of the G7 this week is "inadequate, posing serious threats for fundamental human rights, labor and migration and displacement".
Seeing and other leaders of the Climate Vulnerable Forum commissioned a Human Rights inquiry into the 2 degree target earlier this year that has highlighted the severe impacts of 2 degrees for poor and marginalised groups around the world.
John Knox, who lead the inquiry as the U.N. Special Rapporteur for Human Rights and the Environment, argued that "Even moving from one to two degrees of warming negatively affects the full enjoyment of a wide range of human rights."
He further believes it will have a multiplying impact on Human Rights around the world, and make it very difficult for countries to "respect, protect and promote human rights."
These reports, and the current state of UN climate negotiations around the 2 degree target have shone light once again on the importance of support that developing countries will need to face the ongoing impacts of global warming.
In fact, the government of Vanuatu has decided to sue the world's leading fossil fuel companies for the impacts of climate change that they are already facing. Earlier this year, Cyclone Pam destroyed more than 90 per cent of housing infrastructure in the pacific nation's capital city, Port Vila.
Baldwin Lonsdale, president of Vanuatu, called the Cyclone a "monster" which was directly linked to Climate Change. As such, his government has now decided to "bring a case that would investigate the human rights implications of climate change and hold the big carbon polluters accountable to appropriate international bodies."
Within the UN climate negotiations, many fear that financial support for adaptation and the damages that cannot be adapted to will not meet the required targets. This is what led negotiators and civil society actors to stage a protest today in the UN climate talks demanding that negotiators not only recognise the importance of limiting global warming to 1.5 degrees, but also reinvigorate negotiations to better support the inevitable damages that will result.
Interestingly, this has been one of the key negotiating points for India over the years. However, with its plans to push ahead with its controversial coal plant in the pristine Sundarbands region of Bangladesh, and ban NGO's from criticising, it may indeed be set on a development path that is at odds with its developing country partners.
While a 1.5 degree world may not seem "realistic" to the likes of India, China and Saudi Arabia, all seeking to continue to exploit their vast fossil fuel resources, it is only a matter of time before the true "reality" of a warming world sets in.
By Olumide Idowu (Team Leader, Climate Wednesday)