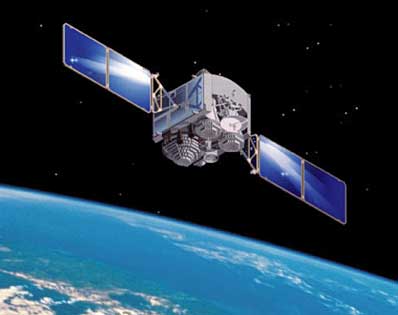 The National Space Research and Development Agency (NASRDA) of Nigeria will soon begin a series of trainings for the country's security agencies on how to use simple satellite technologies to tackle some of the security challenges facing the country.
This, according to the agency's Director General, Dr. Seidu Mohammed, is in tandem with its vision "to uncover and exploit the capabilities of science and technology for national socio-economic and technological development through cutting-edge research."
Disclosing this when a group of science journalists from the Economic Community of West African States (ECOWAS) region namely Nigeria, Benin and Ghana visited NASRDA, Mohammed said, "Personnel of the relevant security agencies would be trained on simple interpretation of information obtained by the country's satellites and processed at the base stations."
At the tour organised by the Nigerian Association of Science Journalists (NASJ) as part of the capacity building programme during the association's International Annual Science Communication Conference, Mohammed said, "A communication Satellite in place, Tariffs on GSM Phone Services as well as tariffs on Satellite Television Broadcasting Services will be reduced, it will also link the rural areas with telephone services and promote E-Commerce and E-Government."
The DG also disclosed that the centre is currently focused on the coordination and implementation of projects and programmes in specific areas including remote sensing and geographic information systems, meteorology, astronomy and astrophysics, communication as well as human capacity development. It is also to establish a centre of excellence in space science and technology, to foster teaching and learning as well as the commercial application of space research, for the economic transformation of Ghana and West Africa.
The agency currently has a 25-year road map that will begin with the training of Nigerian astronauts in 2015. This is to be followed by the development and building of made in Nigeria Satellites in 2018, development of rocketry/propulsion system (2025), spin-off of allied industries – electronics, softwares, among others, expected to happen in 2026.
Meanwhile, the DG said the agency is hopeful that it will launch a Nigerian Satellites from Nigerian launch pad in 2030.
NASRDA has the capacity to develop satellite technology for various applications and be the repository of all satellites data over Nigeria's territory.
Nigeria launched the first satellite into orbit in 2003 (NigeriaSat-1) as part of a Disasster Monitoring Constellation (DMC). Subsequently, NigeriaSat-2 and NigeriaSat-X, made by local scientists were launched in August 2011 as part of the Satellite Development Programme. The major application areas are to enhance Precision Agriculture to tackle food insecurity, support Nigerian Peace Missions all over the world with information, Urban Mapping to improve settlement in the urban centres, disaster monitoring and management such as floods, as well as National Security Applications.
By Onche Odeh