Members of the National Fishworkers Forum (NFF) in India on Tuesday, October 30, 2018 staged protests in 23 ports and harbours across the coastal states to kick against a planned shipping corridor which they claim endangers their source of livelihood.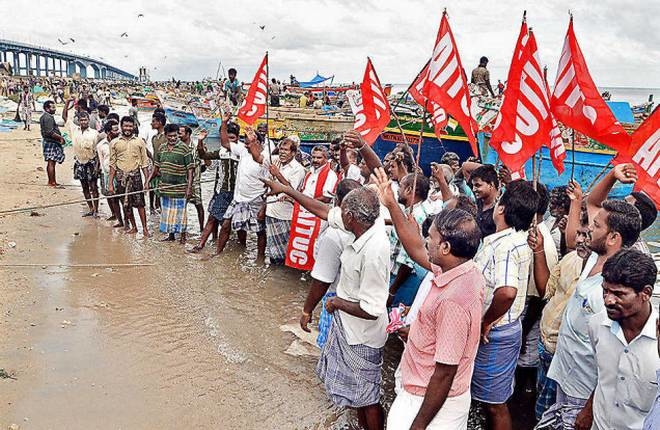 The protests across the state saw a turnout of thousands of fishermen and the public. The NFF says it stands firm against any proposed plan of a shipping corridor "as it endangers the lives of all fishermen".
The protests were described as a success in garnering attention towards the fishing communities and their plights at the hands of "a disinterested government and an exploitative corporate nexus".
In Kerala, Shri. K.V Thomas, a Member of Parliament, inaugurated the protests, standing firmly in support of all fishing communities. MLA, Shri.M. Vincent was also in attendance.
In Maharasthra, various fishing unions convened in large numbers, rallied for their livelihood and opposed the government's "one-sided notification".
Shri.Mahadev Janker, Minister of Cattle and Dairy Development, Fisheries, reportedly attended the protests and heard the fishing communities' demands. Along with him, Shri.Rahula Navekar, Shri. Bhai Jagtap, Shri. Raj Purohit, Shri Jayant Patil, all MLAs, also participated.
Numerous political leaders joined the protests acrossall coastal states and were in support of the fishing communities and theirdemands.
In Goa, amidst hundreds of fishermen, Prime Minister Narendra Modi's effigy was burned as a collective sign of dissatisfaction. With a strong opposition to the disastrous effects of the Blue Economy, including the Sagarmala project, various GoanFishing Unions expressed their mistrust in the current ruling government. Furthermore, in West Bengal, all fishing unions submitted a memorandum outlining their fearsand listing their demands to the concerned Ministry. Odisha and Tamil Nadu alsosaw a turnout of hundreds of fishermen standing in solidarity with each otherand against the proposed shipping corridor.
Mr. Narendra Patil, Chairperson of NFF, and Mr. T. Peter, General Secretary, have both pledged that if the government does not relent and continues towards establishing ashipping corridor, these protests will become nationwide and will reach Delhitoo.
In this regard protests were held in Gujarat: Kutch,Porbandhar, Veraval; Maharashtra: Mumbi Port, Ratnagiri and Malvan; Goa: Vasco fishing harbour; Karnataka: Mangalore, Karvar, Malppe harbours; Kerala: Kochin port, Chellanam harbour, Vizhinjam harbour; Tamilnadu: Colachal,Thengapattanam, Muttam, Chinnamuttam and Nagapattinam harbours and Ramnadu; Andhra Prathesh: Guntur Bapatla; Odisha: Bhubaneswar Rajbhavan; West Bengal: Contai and Diamond harbour.
If the government does not heed the demands of the fishworkers after this protest, the NFF says it is planning to take massive campaign across the coastal states with immediate effect.
Nigerian activist and Director, Health of Mother Earth Foundation (HOMEF), Nnimmo Bassey, in a reaction to the development, submitted: "FishNet Alliance (Africa) stands in solidarity with fishers in India against the proposed shipping corridor that threatens their livelihoods. Our struggles are connected, just as the oceans and seas are connected."
HOMEF and South Durban Community Environmental Alliance are Co-coordinators of FishNet Alliance.