The government of Poland and the UN on Wednesday, October 31, 2018 co-signed the bilateral agreement which forms the legal basis for organising and hosting the UN Climate Change Conference (COP24) in Katowice from December 2 to 14.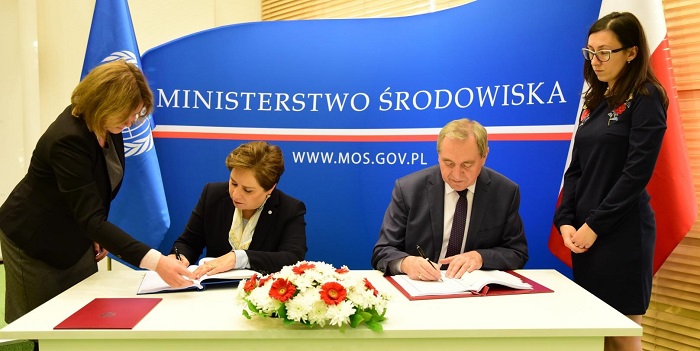 The conference is organised by the Bonn-based UN Framework Convention on Climate Change (UNFCCC/ UN Climate Change) and is presided over by Poland.
"The signing of the Agreement sums up the process of negotiating this document and serves as the final formal element of the organisational preparations for an important international event – the COP24 climate summit," said Polish Environment Minister, Henryk Kowalczyk, at the signing ceremony in Warsaw, the Polish capital city.
"Our joint efforts to this date show the great importance that Poland and the United Nations attach to the success of the summit in Katowice. We have built very strong foundations for further actions and I am certain that successful cooperation and our mutual trust will contribute to the smooth organisation of the climate conference and to their ultimate success in the form of a package of decisions implementing the Paris Agreement," he added.
"We are pleased to sign this host country agreement and look forward to working with the Government of Poland to deliver a robust and successful COP24," said UN Climate Change Executive Secretary, Patricia Espinosa.
"With the devastating impacts of climate change increasingly evident throughout the world, it's crucial that Parties achieve the primary goal of COP24: finalising the Paris Agreement Work Programme. This will not only unleash the full potential of the Paris Agreement, but send a signal of trust that nations are serious about addressing climate change. We need progress on several other issues as well, including commitments to boost global climate action and ensuring nations fulfil their financial pledges to support the climate regime," she added.
Preparations for COP24 including the construction of temporary structures have been ongoing for several months.