The UN Food Systems Summit+2 Stocktaking Moment (UNFSS+2) convened by the UN Secretary-General and hosted by the Government of Italy is taking place at FAO Headquarters in Rome from July 24 to 26, 2023. The high-level event brings together close to 2,000 participants in-person, from 161 countries, including 22 Heads of State and Government, more than 100 Ministerial delegates, and over 150 Non-State-Actor organisations as well as the UN System and other international organisations.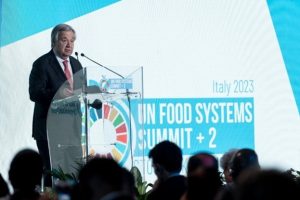 Since the Summit in 2021, most nations have demonstrated a will to make progress towards National Food Systems Transformation Pathways – priorities backed by national ecosystems of support. Building on this, the UNFSS+2 will enable participants to identify successes, enduring bottlenecks, and priorities to bridge the implementation gap for food systems transformation and SDG acceleration.
Despite progress, the UN Secretary-General's report "Making food systems work for people and planet-UN Food Systems Summit+2" shows that more remains to be done. Guided by the report's findings and national experiences, leaders and participants will aim to reverse food insecurity and hunger in line with the 2030 Agenda by fully integrating national pathways into development strategies, securing finance to accelerate food systems transformation, and responding to food crises through enhanced international cooperation and solidarity that leaves no one behind.
The event highlights that food systems transformation is key to reducing CO2 emissions and keeping the 1.5C goal of the Paris Agreement alive, and that it requires cooperation with large food and agricultural companies. At the same time, cognisant of the worsening impacts of the climate crisis on agriculture and small farmers, leaders and key actors will discuss adaptation measures and investments.
Speaking at the opening ceremony, the UN Secretary-General António Guterres said, "Global food systems are broken – and billions of people are paying the price. More than 780 million people are going hungry while nearly one-third of all food produced is lost or wasted. More than three billion cannot afford healthy diets."
"Broken food systems are not inevitable. They are the result of choices we have made. There is more than enough food in the world to go around. More than enough money to fund efficient and sustainable food systems to feed the world, while supporting decent work for those who grow the food we eat."
Prime Minister of Italy, Giorgia Meloni, added, ''For three days, Rome will become the Food Security Capital of the World: a choice that pays tribute to Italy's traditional commitment to this crucial issue. Food security has always been indeed one of the strategic guidelines of our foreign policy and a priority area of Italian development cooperation. And it has become one of the major challenges of our time, in this completely interconnected world.''
The UNFSS+2 Stocktaking Moment features a comprehensive programme, including a high-level opening segment, three high-level sessions, four plenary sessions, leadership dialogues, special events and side events.
The discussions will culminate in a Call to Action, identifying key priority areas for global focus over the next two years, including actions towards the actualisation of policies leveraging food systems for better, more inclusive, and sustainable outcomes; mobilising financing for the transition; building knowledge and capacity among food systems actors; enhancing global, regional and national collaboration for climate action; increasing access to science, technology and innovation; and advancing education, opportunities for decent jobs and social protection.
By promoting the latest evidence and successful models of action, this historic Stocktaking Moment is set to be a turning point in our collective journey towards an inclusive, equitable, healthy, sustainable, and resilient future, leaving no one behind.