Gov. Mai Mala Buni of Yobe State has solicited partnership with the United Nations Development Programme (UNDP) to address effects of climate change.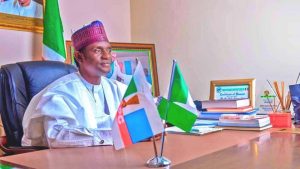 Buni stated this during a courtesy visit by Mr Moncef Kartas, UNDP Head of North-East sub-region, on Tuesday in Damaturu, the state capital.
"Let me share with you one other major area of concern to the government of Yobe, that is, the effect of climate change on the state.
"We are faced with the twin challenge of desert encroachment and flood.
"The state is loosing sizeable of its part to desert encroachment and also recording huge loss to yearly flood.
"I will like our partnership to look into these two natural disasters with a view to explore avenues of checking these threats. To safeguard our people and their means of livelihood," he said.
Buni commended the UNDP for assisting the state in various aspects of human endeavour, especially in the reconstruction of schools, construction and equipping of health facilities and vocational training of the youths, among others.
Earlier, Kartas appreciated the support of the Yobe government and cooperation of the people of the state to the UN agency.
He said the activities of UNDP had brought the state closer to achieving Sustainable Development Goals.
"I can say we share a common vision of bringing Yobe state ever so closer to achieving SDGs."
By Ahmed Abba