Climate adaptation means different things to different people across the continent. From finding alternatives to single-use items, to extending the life cycle of plastics and learning to live in flood-prone environments; we are seeing a variation in terms of the practicalities and the lived realities Africans face daily.
Water in abundance could easily encroach on the daily lives of people and very quickly becomes an unwelcome visitor when it evolves into flood as seen in many parts of the world today. In coastal parts of Nigeria, from Makoko in Lagos to Ayietoro in Ondo state, Nigerians are getting by as they co-habit with water.
Makoko area of Lagos, often described as the floating city on the edge of Lagos, Nigeria is home to nearly 200, 000 people living in some 2,200 shanty buildings on stilts in a lagoon off the Lagos mainland. Just a few kilometres from Victoria Island, the financial city of Lagos and administrative centre or headquarters for many international companies, banks, oil and gas companies.
Though considered as an informal settlement and an inner-city slum plagued with indiscriminate disposal of waste, residents of Makoko have continued to argue their right to exist in what used to be a fishing settlement. In addition to the houses, many of which are made predominantly of makeshift materials and covered with corrugated tin roofs, Makoko has operational schools, markets, places of worship and sources of power serving the community.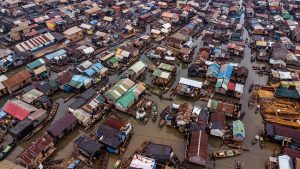 Aiyetoro, another coastal city in Nigeria located along the Atlantic coast in Ondo, south-west Nigeria used to have the Atlantic Ocean as a friendly neighbour until recently. The once "Happy City" in Ilaje Local Government which was established in 1947 is nearly disappearing as the sea continues to rise and recurrent ocean surge displaces the inhabitant.
There has been a great reduction in the number of people living in the Aiyetoro community, from around 30,000 people as captured during the 2006 census, the population of Aiyetoro today (2023) is barely 5,000. About 50% of the town has been swept away and is now below sea level – including homes, schools, and even cemeteries. This building is one of many dilapidated structures that was once solid before the sea expansion and recurrent surges which now leaves it torn apart and almost buried in debris.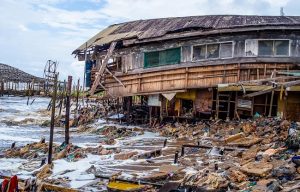 Adebote Mayowa is a documentary photographer, filmmaker and environmentalist. His works are focused on using images and videos to capture humanitarian and development-related projects. He currently provides visual content for EnviroNews and the International Climate Change Development Initiative.