The Benue State Programme Coordinator, International Fund for Agricultural Development (IFAD) – Value Chain Development Programme (VCDP), Emmanuel Igbaukum, has expressed optimism that the project will aid the Federal Government of Nigeria to attain its 2018 projection to stop rice importation and enhance conservation of foreign exchange.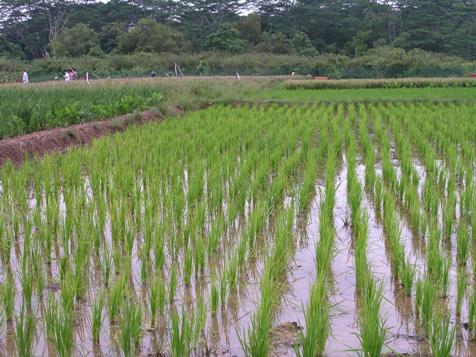 The SPC, who spoke on Friday (4th November, 2016) while fielding questions from journalists at the end of the Benue State IFAD-VCDP Progress Report held in Makurdi, stated that VCDP's intervention would aid in increasing the current five million tonnes of rice per annum, which is considered inadequate for the country.
According to Mr Igbaukum, the intervention in the state currently covers 2,300 hectares of rice farms, which translates to about 10,000 metric tonnes of rice, adding that the target is to get an upscale of 10,000 hectares of rice farms by 2017 to increase rice production and stop importation of rice into the country.
Speaking further, Mr Igbaukum, who noted that they are concerned about suspected herdsmen attacks on farmers in the state, stated that they have encouraged their farmers to farm in contingent groups to allow them to negotiate for security.
He maintained that, with the peace meeting initiated by the state government and concerned parties in the incessant crisis, they are confident that their farmers will not experience any attack that will affect rice production in the state.
On the aspect of cassava production in the VCDP, the SPC lamented that they are still sourcing for credible off-takers in cassava farming with only two identified so far.
Earlier in his presentation, Mr Igbaukum noted that, in meeting up with the IFAD-VCDP goal and objectives, all rice farmers in the five intervention Local Government Areas in the state were trained on GAP Rice and GAP Cassava to ensure improved and increased rice and cassava quality and quantity respectively.
Furthermore, he noted that inputs were distributed to both rice and cassava farmers for the farming season and Benue farmers received all the help they needed during land preparation and through service providers, they accessed 50 percent discount on all land preparation activities as well as improved seeds for planting.
"Farmers also enjoyed several trainings within and outside the state on GAP, fertiliser and herbicides to mention but few and now that the harvest is almost ready, off-takers are readily waiting to make millionaires out of Benue farmers," he stated.
By Damian Daga