The Abuja-based International Centre for Energy, Environment and Development (ICEED), which is implementing the EU funded "Support for Response, Recovery and resilience in Borno State",  has shed some light on outcomes of the sustainable energy solution scheme in the state.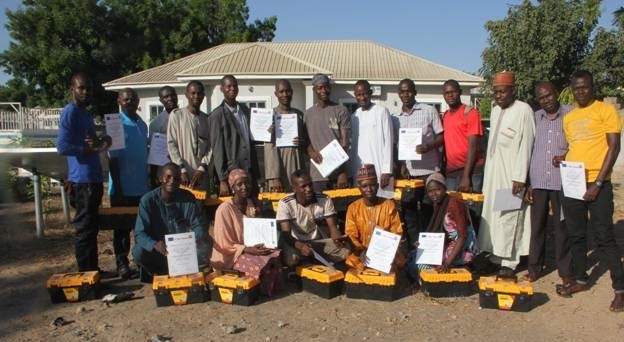 Speaking  during the handing over of the solar starter tools to the first batch of the trained solar technicians, ICEED's Executive Director,  Mr. Ewah Eleri, said: "What is happening today is the bar raising in sustainable energy solution – a tripartite onslaught on energy poverty in Borno State is underway. We are  building the resilience of the conflict affected people and communities in the State in an environment-friendly way."
ICEED reportedly  equipped 74 trained solar technicians and 70 trained stove technicians with work-tools. The solar toolbox for solar technicians comprises of digital clamp metre, soldering iron, soldering lead, set of screwdrivers, set of spanners, digital compass, set of pliers, and harmers. The stove training tool package includes stove molds, work bench, shovels, head-pan, work-knife, measuring tape, water drum, bucket, set of brushes, and tarpaulin.
According to ICEED, the acquisition of technical skills expands economic opportunities and reduces inequality, which the organisation says constitutes a significant source of grievance, particularly for vulnerable youths who feel they have few ways to get ahead with life.
ICEED also announced the commencement of the distribution of 10,000 fuel-efficient stoves to households in Borno Central and Borno South, as well the installation of 5kva solar system to 12 health institutions in the State.
Project Advisor, Mr Okechukwu Ugwu, said: "Cooking fuel and lighting are usually  minimum standards in humanitarian response. However, while clean cookstoves and lighting are all recognised as lifesaving non-food items provided to IDPs and communities, these minimum requirements are not often met.
"We hope that these stoves will not only reduce pressure on the environment, it will also save costs, reduce exposure to insecurity, and promote good health of the users, while we also hope  the solar system will contribute to the improvement of health service delivery in the state."
ICEED disclosed that it is implementing this project in Hawul, Kwaya Kusar, Biu, Bama/Gwoza, Jere and Mafa Local Government Areas of Borno State.