Civil society and Indigenous Peoples organisations numbering 373, from 74 countries, urged leaders at a historic global conference to act with urgency to phase out Highly Hazardous Pesticides (HHPs), a particular group of pesticides that cause the most severe harm to human health and the environment and are considered too dangerous for use.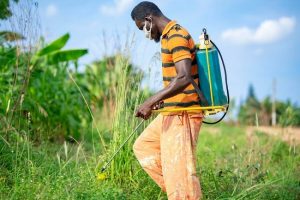 The petition letter to governments and other stakeholders of the Strategic Approach on International Chemicals Management (SAICM) was presented at the opening of the Fifth International Conference on Chemicals Management (ICCM5), with the demand to include in the new SAICM Beyond 2020 framework an ambitious target to phase out HHPs in agriculture by 2030. The ICCM5 hopes to ratify the SAICM Beyond 2020 Framework, a policy instrument defining the direction of global chemicals policy for decades to come.
"Other international policy forums and frameworks, including multilateral agreements on climate change and biodiversity loss, have made significant targeted political commitments on major crises that pose existential threats to humanity and the planet. However, HHPs have remained largely unaddressed," the letter said.
Each year, nearly 400 million farmers and farmworkers are poisoned by pesticides, resulting in around 11,000 deaths – the majority of which occur in the Global South. Because they are highly toxic, HHPs are responsible for a large number of these acute poisoning incidents.
The groups – representing farmers, farmworkers, IPs, and other rural peoples; trade unions; environmental and health professionals; scientists and academia; pesticide poisoning victims; and consumer and rights advocates all over the world – also called upon the ICCM5 to:
Include a target for all countries to prohibit the export of substances that they have prohibited nationally, many of which will be HHPs (or to end "double standards" in pesticides trade);
Include a target for all countries to implement policies and programs to support safer and more sustainable non-chemical alternatives to HHPs, especially agroecology;
Support the proposal of 54 African governments to establish a Global Alliance on Highly Hazardous Pesticides.
"If the Sustainable Development Goals are to be achieved, ecological collapse is to be averted, and human rights are to be upheld — including the right to food and the right of future generations to a clean and healthy environment — everyone must work together towards eliminating the world's most dangerous pesticides, and phasing-in and scaling-up safer agroecological alternatives," the letter stated.
The groups addressed fears that phasing out HHPs is detrimental to food security, saying that on the contrary, HHPs' toxic impacts on ecosystems negatively affect productivity.
"HHPs have been phased-out in agriculture in a number of countries without affecting agricultural productivity. This has been acknowledged by the Food and Agriculture Organisation (FAO) and the World Health Organisation (WHO). Safer alternatives to HHPs already exist. Agroecological approaches, in particular, have proven to be effective and sustainable alternatives."
Hosted by the UN Environment Programme (UNEP) and endorsed at the highest political levels, agreements reached by governments and other stakeholders – including intergovernmental organizations, the private sector, and civil society – through SAICM shapes the development and implementation of national policies, as well as the establishment of regional and international mechanisms, to address chemical-related issues.
Anna Shevel, Network Coordinator, UnPoison South Africa, said: "In South Africa, 192 Highly Hazardous Pesticides are still legally in use, 57 of which are banned for use in the EU, their origin of export. These pesticides are acutely toxic yet are largely applied by untrained, illiterate workers who have not been given adequate protection if any at all. Disease and early death rates in farming regions are high.
"A pesticide that is toxic to a body in Europe is also toxic to a body in Africa. Acutely toxic chemicals that cause harm or death should have nothing to do with food production. It is counter intuitive and unfathomable. The UnPoison network joins the call for a global ban of all HHPs and supports the Global Alliance for African states."
Colleen Anderson, Secretariat, SAOSO, said: "As the South African Organic Sector (SAOSO) and PGS South Africa, we are firmly behind this campaign to ban these highly damaging agro-toxins from our food system and soils. It is a human rights violation that these chemicals, banned in other countries, can be used prolifically in our agricultural systems to the detriment of our environment and the health of our population."
Maimouna Diene, Chairperson, PAN International, said: "With all the scientific evidence and documentation available on poisoning cases, soil and water pollution due to Highly Hazardous Pesticides, it is urgent to take ambitious decisions for the phase out of HHPs by 2030. PAN International and its partners denounce the stranglehold of the agrochemical industries on international agreements and call for the establishment of a Global Alliance for the phase out of HHPs and their replacement by healthy and sustainable agroecological practices."
Olga Speranskaya, Co-Director, Health and Environment Justice Support, said: "By establishing the Global Alliance on HHPs, SAICM stakeholders will agree with the need to phase out highly hazardous pesticides, prepare, support and implement appropriate international and national measures to prevent harm from HHPs. The Alliance will help raise awareness of HHPs and their impact on human health and the environment among government officials, farmers and suppliers and contribute to ending double standards in HHP export and illegal trade."
Kim Schoppink, Global Advocacy Lead, Rainforest Alliance, said: "For many years, the Rainforest Alliance has worked hand in hand with farmers and companies committed to removing HHPs from their practices. Breaking free from these pesticides is not easy for farmers, as they face numerous barriers, including government policies that incentivize agrochemical use and limited support from their buyers. That is why we are calling on governments and more companies to join us in our mission to eliminate these hazardous chemicals worldwide."
Razan Zuayter, Board Chairperson, The Arab Group for the Protection of Nature, said: "It is a glaring double standard within the international human rights system that while some nations and companies ban HHP on their own soil, they continue to export these toxic chemicals, poisoning millions of people, especially in the Global South. Upholding human health is a collective global responsibility, transcending borders and challenging the ongoing double standards."
Giulia Carlini, Senior Attorney, Environmental Health Program, Center for International Environmental Law (CIEL), said: "Pesticides do not only harm 'pests' but also the environment, people, and human rights. HHPs must be urgently phased out. Safer alternatives exist, and it is imperative that nations commit to their implementation. We join the call for collective action to eliminate HHPs and embrace sustainable agroecology, recognizing the urgent need to protect people and our planet."
Sofia Monsalve, Secretary General, FIAN International, said: "The use of HHPs violates the right to food, life, health and a clean, healthy and sustainable environment of millions of small-scale food producers and rural communities. It is unacceptable that the interests of the agrochemical industry are better protected than the well-being and care of human beings and nature."
Haidee Swanby, Coordinator, The South African People's Tribunal on Pesticides, said: "Affiliates of the South African People's Tribunal on Pesticides understand the lived reality of pesticide exposure in a context of unequal and unjust power relations. We are working together to expose the real-world consequences of corporate impunity with regard to our health, our livelihoods and our right to safe food and a safe environment.
"The lives of farm workers and other workers exposed to chemicals in the global South are as precious as those in the North. Highly hazardous pesticides are killing and maiming us, they must be banned now! There can be no justification for deplorable double standards and profit over people."
Corinne Lepage, Chair, Justice Pesticides, said: "We expect the new Strategic Approach to International Chemicals Management that will emerge from the ICCM5 to respect the objectives we are calling for, otherwise it would clearly violate the right of everyone to live in a healthy environment as well as the international commitment to reduce the overall risk from pesticides affirmed in the 2022 Kunming-Montreal Global Biodiversity Framework at the 15th Conference of the Parties to the UN Convention on Biological Diversity."
Poguri Chennaiah, Chairperson, Asian Peasant Coalition, said: "It has long been proven that Highly Hazardous Pesticides cannot be used safely – so the only way to protect farmers and farmworkers is to keep HHPs off the market. This is especially necessary in Asia, where plantations and big landholdings require the use of many HHPs with farmers having little information and control over chemicals they are forced to use."
Dr. Narasimha Reddy Donthi, Adviser, Maharashtra Association of Pesticide Poisoned Persons, said: "Farmers are led to believe that pesticides are the easy choices for the problems they are facing in crop production. HHPs are being pushed as technical answers to social problems, and farmers are often made to feel that there is no other way. However, farmers who have been harmed by HHPs and lost family members to poisoning are actively searching for safer alternatives – governments must lead the way in supporting them to transition away from HHPs."
Natacha Cingotti, Health and Chemicals Programme Lead, Health and Environment Alliance (HEAL), said: "Banning highly hazardous pesticides by 2030 is a public health priority. We call on European delegates to support global targets for the speedy phase-out of the production and export of HHPs, and make the European Union play its part in the much-needed global transition towards a health-protective agriculture."
Nicky Gabriels, Campaign and Policy Officer, Viva Salud, said: "Viva Salud joins the call for global action to phase out HHPs as we drum up our campaign to stop and demand accountability for the duplicitous practice of exporting EU-banned HHPs from EU member states to countries in the Global South. As research from our partner organizations in the Philippines and in Palestine has confirmed, the export of these pesticides is a gross violation of the people's right to life, health, and a healthy environment, the effects of which are disproportionately felt by poor and vulnerable groups and communities."
Eoin Dubsky, Senior Campaign Manager, Ekō, said: "Highly hazardous pesticides are human rights abuses and biodiversity loss in liquid concentrate form. It's high time to eliminate these dangerous pesticides, and phase-in and scale-up safer agroecological alternatives for farmers and communities."