In her bid to expand her activities of educating and building a climate-smart generation across Africa, the International Climate Change Development Initiative (ICCDI Africa), popularly known as Climate Wednesday, on Monday, March 11, 2019, announced the appointment of four country representatives to lead the organisation's activities in their respective countries.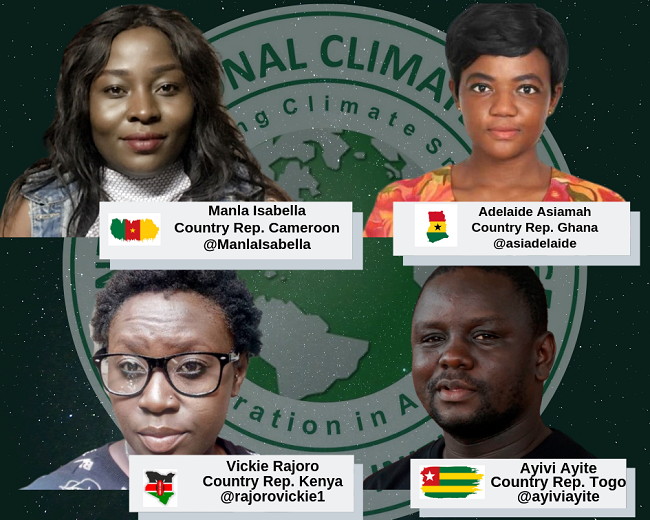 The new country representatives are Manla Isabella representing Cameroon, Adelaide A. Asiamah representing Ghana, Vickie Rajoro representing Kenya and Ayivi A. Samuel representing Togo.
Making the announcement, Olumide Idowu, the co-founder of ICCDI Africa, said, "We are excited that we are extending our tentacles and taking the message of climate change and sustainability across Africa. I am very confident about our new country representatives, their knowledge, their readiness to work and most importantly, their passion to educate other young people about climate change."
Cameroon's country representative, Manla Isabella holds a master's degree in Fisheries and Animal Production and a first degree (Bachelors) in Agricultural Economics. She brings to ICCDI Africa her strong research, analytical and organisational skills. Highly passionate about climate change and with a strong background in community development management and strategic planning, Isabella's appointment takes ICCDI Africa many steps closer to birthing Climate Change education, transformation and sustainability in Cameroon, as well as, across other Africa countries.
Togo's country representative, Samuel, is an independent project manager and a technology enthusiast. Most of his works are focused on education, climate change and volunteering. He brings his many years of working with young people to coordinate the activities of ICCDI Africa in Togo.
Asiamah is a vibrant multifaceted lady with a conglomerate of ideas geared towards the betterment of humanity and my environment. Serving as ICCDI Africa's country representative in Ghana, Asiamah brings on board her collaborative ability and capacity building dexterity to ensure more young people in Ghana understand Climate Change and other environmental issues, furthermore, embark on sustainable actions. Asiamah is currently studying Natural Resource Management with a specialisation in Silviculture and Forest Management at Kwame Nkrumah University of Science and Technology.
Kenya's country representative, Rajoro, is one of Kenya's most creative idea driven youth leaders that is committed to empowering young people in her society to take climate action. She is elegant, passionate about humanity and knowledgeable in environmental subjects. She is a graduate of Public Relations from the University of Nairobi. She runs some agri-businesses and invests in sustainable global energy aimed at catering to the needs of less privileged people that are affected in some of Kenya's communities.
Congratulating ICCDI Africa's newly appointed country representatives, the organisation's co-founder, Esther Agbarakwe, encouraged the members of the team to prioritise climate action and wished them the best.
By 'Seyifunmi Adebote, Abuja