The government of Turkey says it has planted a total of 4.5 billion tree seedlings in the past 16 years as part of the Mediterranean country's afforestation and erosion control activities.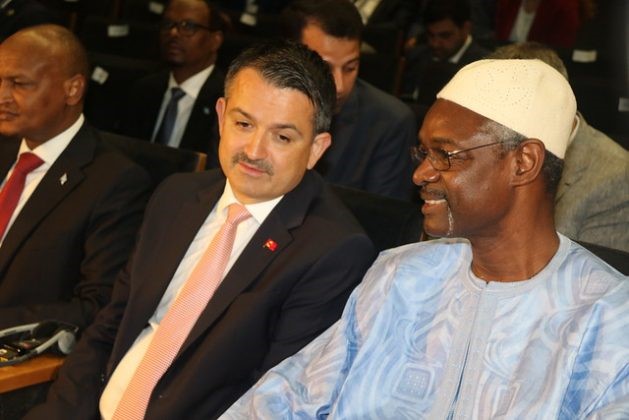 Turkish Minister of Agriculture and Forestry, Bekir Pakdemirli, disclosed this at the 25th anniversary of the UN Convention to Combat Desertification (UNCCD) which ended on Wednesday, June 19, 2019 in Ankara.
World Day to Combat Desertification is celebrated every year globally on June 17 to promote good land stewardship for the benefit of present and future generations.
The event was jointly hosted at The Congresium, Ankara, by Government of Turkey and UNCCD, with ministers from 10 countries in attendance.
Pakdemirli said that the "Mobilisation for Afforestation Campaign" project was initiated by President Recep Tayyip Erdoğan, and the country's target was to plant seven billion tree seedlings for each person on Earth by 2023.
He said that Turkey had used afforestation, irrigation, modern grassing and erosion control studies to reduce soil swept away by floods to 154 million tons annually from about 500 million tons per year back in the 1970s.
"Our target is to reduce the number to 130 million tons by 2023.
"As a result of afforestation, erosion and good agricultural practices undertaken over the past 16 years; the amount of transported soils has been reduced by 72 million tons.
"This number corresponds to an area of approximately 30 thousand football fields. In other terms, the loss of approximately 300 thousand hectares of agricultural land was prevented," he said.
He said that in addition to restoring 5.2 million hectares of land over the last 16 years, Turkey also undertook to complete afforestation and erosion control activities on 1.5 million hectares of land, carry out pasture rehabilitation on 750,000 hectares of land and rehabilitate two million hectares of agricultural land by 2023.
According to the minister, Turkey is not only focusing on afforestation and erosion control activities, but also putting in efforts to protect its forests against fires, pests and diseases, as part of combating the global climate change emergency.
He said that the country had also prepared "National Desertification Model'' and "National Desertification Risk Map" in order to identify desertification-sensitive areas and execute projects in priority areas.
The minister said that the country also aimed to monitor Land Degradation Neutrality parameters through "Turkey's Soil Organic Carbon Model and Mapping Project" and "National Land Cover Classification and Monitoring System Project".
He said that since rural poverty was one the causes and consequences of land degradation, Turkey was making efforts to improve living standards in rural areas through participatory integrated watershed rehabilitation projects.
According to him, it is not possible to separate environmental problems from social problems which sometimes result in forced migration.
"Before it is too late, we should take necessary measures before lands lose their productivity and become completely uninhabitable.
"It is our primary responsibility to let future generations inherit a world without concern for thirst, food security and desertification," the Turkish minister said.
He said that as at 2018, Turkey had trained over 800 foreign experts from over 50 countries on combating desertification and erosion, and collaborated with almost all African countries on the matter.
"Under the Memorandum of Understanding signed with the Pan-African Great Green Wall Agency, Turkey establishes cooperation and carries out projects with member countries of the Agency," he said.
He said that the world was facing silent and more insidious danger of desertification that constantly grows and threatens the planet.
"This danger that takes our lands away, makes them unusable and risks our future is nothing but desertification; this danger that seriously threatens the future of the entire world.
"It is impossible for countries to achieve sustainable development without sustainable land management.''
The international community adopted the Convention to Combat Desertification in Paris on June 17 1994 out of concern that desertification and drought are problems of global dimension affecting all regions.
In 2015, the international community also agreed to pursue a global target to ensure all countries work toward keeping a healthy balance of productive land by accelerating the recovery of degrading land, while avoiding and reducing land degradation.
By Wale Ojetimi