The Climate and Sustainable Development Network of Nigeria (CSDevNet) on Tuesday, June 19, 2019 stressed the need for effective collaboration by CSOs in championing the course of mitigating the effects of climate change.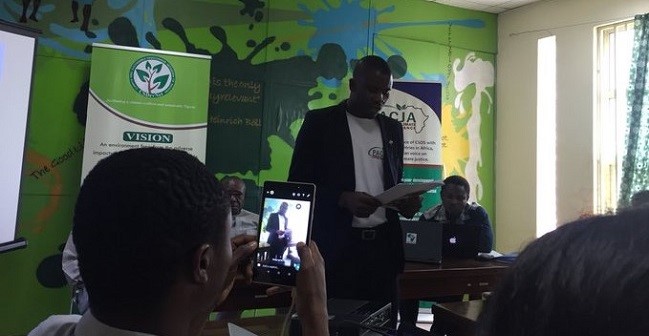 The coalition under the umbrella of the Nigerian Civil Society Framework on Paris Agreement and SDGs is coordinated by CSDevNet.
Mr Pius Oko, the Project Officer, CSDevNet, said during the Post-Conference of Parties (COP24) National Consultative Workshop 2019 in Abuja that deeper cooperation among CSOs was needed.
The COP24 to the United Nations Framework Conference on Climate Change (UNFCCC) was held in Katowice, Poland in December 2018.
"So, we are seeking that CSOs around Nigeria come together to have a common voice and to champion environment matters.
"With this gathering, we are seeking more collaborators and partners from across states in Nigeria as a way of coming together to have one voice, so we can speak, and we can make a change and make it work.''
He said that purpose of the workshop was for CSOs to follow up by seeing how most of the agreements reached at COP24 were being followed and implemented by government.
Oko said that the CSOs role was to champion the cause of the people and inform government on their plight, so they could redirect their impact to the right people.
Dr Moses Ama, the National Coordinator, Nigeria REDD+ Programme, Federal Ministry of Environment, said CSOs needed to come together to bring to the fore issues about the environment.
Ama said it was the responsibility of CSOs to hold government accountable and this could only be achieved collectively.
"The CSOs should as matter of urgency begin to call us to order after they have organised themselves, it should not be a one man show and transmit what you hear from us to the bigger platforms.
"Bigger bodies do not want to relate with individuals, there is funding, it is the assurance to say there is a platform you can hold responsible and it is this platform that CSDevNet is trying to create.
"Unless that is done, we cannot track it well, there will be losses and the international community would not come and find out for us. It is we that should track it, put it in a bigger plate and show it to the people,'' he said.
Dr Uzodinma Adirieje, National Coordinator, Afrihealth Optonet Association (CSOsNetwork), said CSOs must continue to collaborate for effective advocacy, sensitisation and monitoring.
He however added that CSOs needed the support of government community leaders, development partners and the citizens in general to track achievement made.
''CSOs take up the concerns of everybody because they know somehow their intervention will benefit one person, save one life or help one woman somewhere till things become better.''
By Okeoghene Akubuike