Adoption of practical approach and strengthening of environmental policies and regulations have been attributed as the only way of preventing the dangers associated with methane emissions in Nigeria.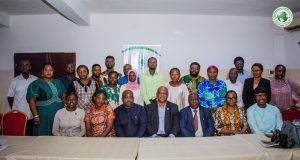 Mr. James Ogunleye of Carbon Limits Nigeria, made the call during his keynote address at the capacity building workshop on Methane Emission Prevention in Nigeria on Tuesday, August 22, 2023.
While highlighting "The Global Significance of Addressing Methane Emissions and the Potential Benefits for Nigeria", Ogunleye disclosed that methane is about 28 to 32 times as concentrated as Carbon dioxide (Co2) in terms of global warm potential and also stays longer in the atmosphere than Co2.
"After Co2, methane is the most abundant hydropogenic greenhouse gas and constitutes about 80% of global issues. More than half of global methane emission comes from human activities such as the fossil fuel as well as agriculture.
"Everybody looks at oil and gas as the major causes of methane emissions, this is very incorrect because the amount of methane emissions that comes from agriculture alone is about 40%. Who is taking care of all the wastes emanating from the abattoirs? So, if we don't have all these records, then it is hard to say but it is easier to attribute this to oil and gas because of proper recording in that sector," Ogunleye stated.
Dr. Adedolapo Fasawe, General Manager/Chief Executive Officer of Lagos State Environmental Protection Agency (LASEPA), who spoke in consonance with Ogunleye, said methane is the world's second-largest contributor to global warming after carbon dioxide and a key ingredient in ground-level ozone pollution.
Dr. Fasawe, who was represented by Bisi Shonibare, while speaking on the "Impacts of Methane Pollution on Human Health", cautioned that high levels of methane can reduce the amount of oxygen breathed from the air.
"This can result in mood changes, slurred speech, vision problems, memory loss, nausea, vomiting, facial flushing and headache. In severe cases, there may be changes in breathing and heart rate, balance problems, numbness and unconsciousness," she submitted.
Fasawe added: "The Agency regularly monitors various dumpsites across the state through air quality analysis, soil analysis, and analysis of leachate and water collected from affected area.
"LASEPA has also conducted stakeholder meetings with foreign partners and the Lagos Waste Management Authority (LAWMA) in which the tapping of gas already embedded in the ground was discussed which will thereafter result in the closure of landfill sites within the metropolis for conversion to recreation centres like golf course.
"LASEPA recently created a zonal office in Epe to monitor and combat air pollution at the Epe/Ibeju-Lekki corridor with focus on the Dangote Refinery and the Fertiliser Plant at Ibeju-Lekki. The Agency also mandated the development of an Environmental Impact Assessment Report for all the facilities at Lekki Free Trade Zone to guide the monitoring of the area. In partnership with the Lagos State Ministry of Agriculture, faecal waste from abattoirs and poultry across the state will be converted to biogas to light up the farmland."
In his submission, Mr. Michael Bankole, Deputy Director/Head Climate Change & Environmental Planning, Lagos State Ministry of Environment & Water Resources, while speaking on "Methane Emission Reduction in Lagos", compared the current state of Lagos GHG emission between base year 2015 and 2019 GHG Inventory Data and said that the "total emissions in Lagos State were estimated at 26,443,656 tCO2e in 2015 against 25,634,626 tCO2e in 2019".
Bankole, who noted that reducing methane is the fastest way to slow global warming, also suggested strategies for reducing methane emissions.
He said reducing direct emissions from dumping and landfilling without a well-performing landfill gas management system should be prioritised, waste collection must increase as well as compliance enforcement in order to prevent illegal dumping.
The Head Climate Change & Environmental Planning also clamoured for Circular Economy, Clean Energy and Advocacy as other means of getting this message across to the people at the grassroots.
In his submission, Dr. Femi Idowu-Adegoke, Co-founder/President, Lagos Recyclers Association (LAGRA), suggested bio-digester as the best way to deal with methane in a landfill.
He said: "Landfill methane can be tapped, captured, and used as a fairly clean energy source for generating electricity or heat, rather than leaking into the air or being dispersed as waste.
"Methane is a potent greenhouse gas, trapping 86 times more heat in the atmosphere than carbon dioxide. Nearly 20% of the planet's warming can be attributed to methane.
"Landfill gases can move from a landfill through the soil into outdoor air as well as the indoor air of nearby buildings. Landfill gases in outdoor air can enter a building through windows, doors, and ventilation systems," he stressed.
The One-Day Capacity Building Workshop on Methane Emission Prevention in Nigeria, which was organised by the International Climate Change Development Initiative (ICCDI) and supported by the Clean Air Task Force, witnessed participants from civil society organisations, government ministries, private sector playerss and other stakeholders.
By Ajibola Adedoye