Over 400 activists, environmental, climate justice and human rights organisations in South Africa on Wednesday, August 23, 2023, gathered at Innesfree Park in Sandton, Johannesburg, to stage a protest targeting the Chinese delegation and other delegates attending the BRICS Summit.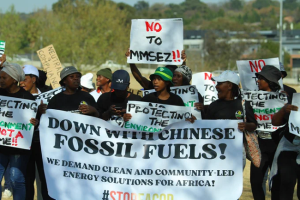 The demonstration was aimed at calling on China to immediately cease financing all new fossil fuel developments and extractive projects in Africa that undermine global climate goals and which cause irreparable harm to local communities.
Protestors specifically targeted the China-backed East African Crude Oil Pipeline (EACOP), and its associated oil drilling sites, in Uganda and Tanzania. The protest also targeted China's involvement in the Musina-Makhado Special Economic Zone in South Africa, the Hwange coal-related projects in Zimbabwe, and the Cabo Delgado gas projects in Mozambique. These projects are said to be incompatible with China's climate action and cooperation pledges to global south countries.
The demonstration in Johannesburg was bolstered by the hundreds of activists CSOs and CBOs from across the African continent (including in Uganda, Tanzania, the DRC, and Kenya, to name a few) who took to twitter under the hashtags #StopEACOP #EndFossilFuelFinancing and #BRICSProtest to add their voices to the calls on China to withdraw its involvement in all new fossil fuel projects in Africa.
The protest follows China's signing of a climate declaration with Africa in 2021, where it pledged no new coal projects abroad and greater support for adaptation. Destructive projects like EACOP contradict these promises entirely, say activists, adding that they will continue escalating pressure until China stops bankrolling fossil fuel expansion in Africa.
Instead, they said, China must prove itself as a true friend to the continent by making a dramatic and practical shift toward the rapid and widespread development of renewable energy alternatives which promote sustainable and lasting job opportunities, far-reaching energy access and socio-economic and environmental well-being for communities across the continent.
"Projects like EACOP show China's rhetoric doesn't match reality. A true friend to Africa would not fund projects that displace communities, unravel livelihoods and destroy ecosystems. We are demanding a new partnership and development model[1]one rooted in the principles of justice, equity, transparency, sustainability and collective benefit. Africans should not have to suffer through another epoch of careless extraction and exploitation. We are here to assert the potential and need for Africa to lead the renewable energy revolution," Zaki Mamdoo, StopEACOP Coordinator, told reporters at the summit.
"China has the opportunity to step up and be the partner it claims to be to African nations by ending fossil fuel projects like EACOP once and for all. Our livelihoods and shared future are at stake. It's time for China to stand with African people by stopping the continued flow of finance to these harmful projects that enrich profit-hungry fossil fuel companies, and instead redirecting financing towards a sustainable and climate-compatible energy future built on renewables," said Charity Migwi, Africa Regional Campaigner at 350.org.
"The BRICS countries must keep their commitment to reducing greenhouse gas emissions. We urge all to abandon any fossil fuel projects planned so they may meet the targeted carbon neutrality by 2050," said Makoma Lekalakala, Director at Earthlife Africa.
"Today, our brothers and sisters across South Africa stood as one with the communities in Uganda and Tanzania resisting EACOP's destruction. Although we are divided by borders, we are united as Africans in demanding climate justice and an end to projects that only benefit elites while adversely impacting ordinary citizens across the continent. China must listen to our unified voices – EACOP contradicts its promises of friendship to Africa. True solidarity means stopping this pipelinepoisoning our shared future," said Balach Bakundane, Field Organiser for AFIEGO.
Trevor Ngwane, Chairperson of United Front, said: "The BRICS presidents are giving false hope to the masses. Their feigned anti-imperialism is not anti-capitalist. Their geopolitical manoeuvers do not prioritise the interests of the working class and the poor. Theirs is an elitist, top-down politicaland economic project driven by the rich and powerful. They had their BRICS Business Forum but where is the civil society forum? Do they not want to hear the voice of the trade unions, community organisations and youth movements? Are they going to make all the big decisions without consulting those who will have tolive with the consequences of those decisions?
"The worst part is that all the BRICS countries are big carbon emitters with South Africa the biggest emitter in Africa. Their climate denialism and deflectionism does not consider that the people who willbe worst affected by climate disasters are people in Africa, Asia and Latin America. The BRICS political project is not the solution. The only solution for the working class and the poor is socialism."
Bhekumuzi Dean Behebhe, from the Don't Gas Africa Campaign, said: "Projects such as EACOP continue to trap Africa in a cycle of need, want and fear. There is an urgent need to stop the project if we believe in human rights, development and climate justice in Africa. We need a transformative, people-led process involving rapid social, economic, and institutional change to address the continent's energy needs and the EACOP project undermines that."