Mining has been a massive driver for development, as seen in developed countries. Now that Nigeria is diversifying from her mono economy of petroleum, mining amongst other sectors should be looked at. Therefore, plans to manage the sector throughout its life cycle should also be put in place. Old mine practice that brought about adverse environmental degradation, without attention to managing social impacts of mining, should be avoided. Mining impacts must be managed judiciously "from cradle to grave" to accomplish sustainable development outcomes. Thus, mining will be all encompassing viable economically, environmentally and socially.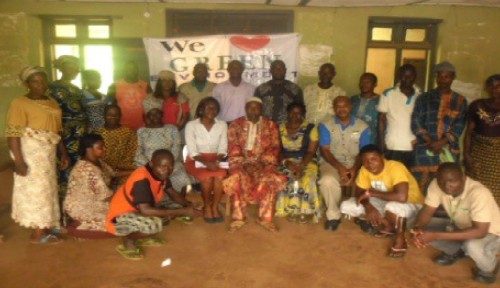 This message was passed by Mrs. Maryam Olayeni, the Executive Director of Conservative Environmental Growth and Development Centre (CEGDEC), at a knowledge-sharing workshop held recently at Igun-Ijesha gold mining community in Atakumosa West Local Government in Osun State. The workshop was based on experience gained from the Australian African Awards on Managing Social and Environmental Impacts of mining, a seven weeks intensive training which basically incorporated social issues in environmental development.
Examples were drawn from good practices around the world, especially from Australia and Madagascar. Artisanal mining should equally adopt; as seen in the large scale mining sector, the practice of mine planning to reduce impact, environmental and risk management systems, environmental protection, water use management and impact; and mined land rehabilitation. To socially manage mining impacts on the other hand, social responsibility in mining, community engagement, stakeholders' agreement processes, gender and mining; and mining related health issues should be addressed.
CEGDEC in its plight of mitigating the adverse effects of mining advised the community to be proactive in developing their local capacity. The community should be prepared to sustain livelihood after the life of a mine, as mining operation is terminal. Emphasis was laid on being self-reliant, by facilitating the promotion of agriculture, culture and local livelihoods. The community largely represented by farmers and miners were also admonished to incorporate community involvement and participation, respect for cultural heritage, consideration for gender inclusion in mining, and corporate social performance as means of gaining social license.
In his speech, the DG/CEO of National Environmental Standards and Regulations Enforcement Agency (NESREA) duly represented by its Osun State Field Officer, Mr. Maike Shukwunweizu Ahmad, admonished the miners to always be law abiding.
His words: "Illegal mining is totally unacceptable as it gives no cognisance to the environment and the people. Sustainable mining begins with following regulations and standards strictly. The issue of health and safety on mines cannot be underestimated. NESREA is within reach should there be need to contact on issues of non-compliance."
The Atakumosa West Local Government was equally applauded for the development in terms of newly constructed tarred road to the community, though mining is for the purpose of development, said Olayeni, adding that more emphasis on a positive economic environment in the mining region should be laid.
In his response, the Onigun of Igun I, Oba Sunday Oladipupo Ajilore thanked the CEGDEC and NESREA teams for enlightening Igun-Ijesha Township.
"We are welcoming investors in our rich gold town," he stated.
Established on the basis of reducing the human footprints on the environment, CEGDEC contributes to building community values and practices and promotes sustainable development in campaigning for a give-back to the environment through research, advocacy, education/awareness creation, capacity building, economic empowerment and environmental management.