Minister of Environment, Muhammad Mahmood Abubakar, on the sidelines of the 25th Session of the Conference of the Parties (COP25) to the United Nations Framework Convention on Climate Change (UNFCCC) in Madrid, Spain last December, spoke with EnviroNews on a range of climate change and sustainable development related issues. Excerpts: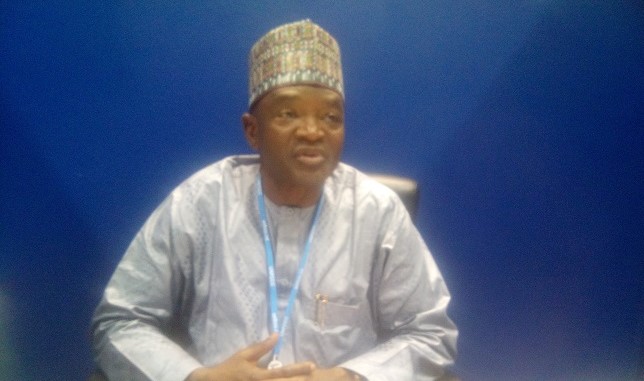 Nigeria is soon going to issue its third Sovereign Green Bond. What is it going to be deployed to in terms of tackling climate change?
The third one will be deployed to agriculture, water resources, erosion control, basic sanitation, basically green projects because the whole concept is to move away from the business-as-usual of raising funds from all kinds of industries that will create emission. This is called green financing and by so doing, we invest the money back again into the green project. The beauty about this is there are opportunities for private sector to come in, be it production of electricity from solar energy, from waste to wealth, all these are ways that private entities can come in and partner with the government to improve the transition from business as usual to climate financing.
How much are we looking at in this sovereign green bond issuance?
I can't say right on the point right now but we are able to raise over N10 billion in the first one and the second one we raised over N13 billion and we plan to raise a lot more, if we want to extrapolate we will say N20 billion but we want to raise even more than that because the more we raise, the more we invest.
What are the key issues that Nigeria is addressing at this summit and what will she take away?
Nigeria has continuously been in the fight against climate change, has been involved in so many projects and programmes, what we are taking away is that we're right up there with the rest of the world, in fact surpassing many other developing countries in meeting our NDCs, that is our Nationally Determined Contributions in reducing emissions which is one of the main factors of climate warming. At the same we're part of the circular economy which is the best way to reduce the issues of climate change by moving away from the linear economy which is production, usage and disposal.
Today we're talking about reduce, recycle, reuse, repair and recover. It is an innovation in which resource from production to usage instead of direct disposal, it becomes a resource that you can recycle and reuse.
And in recycling when you go deeper you find that resource has become a raw material for another product to be produced. For example, we just commissioned one of the several waste management centres in Nigeria, in Karu, Abuja where we recycle wastes and things like plastic to pellets for making little blocks that can be used for interlocks and other products too.
This innovation can do a lot of things like producing more jobs and it takes away the pressure of the resources we need to manufacture this product, it reduces the amount of energy that will go into production from a whole new resource, it reduces the amount of emission that goes into the production from industries. So, it is a system that comes together to reduce the dependence on regular, linear resource use and improves the NDCS.
These are some of the things we are leading with. In fact, Nigeria was rated as one of the leading countries in the circular economy concept in the recent meeting I attended in South Africa and it is also playing out here in Spain.
Nigeria and other regions that boarder the Lake Chad are currently facing one of the worst humanitarian crises in history, what is the government doing to revive the lake and restore the livelihood of the surrounding communities?
Currently, the president is spearheading the Lake Chad Basin Commission, it is called the Lake Chad Inter-basin Water Transfer Project, which is a cooperation among the countries surrounding the Lake Chad. Of course, the disappearance of water in the Lake Chad is a very serious problem, not just ecologically but security wise because we realise that a lot of breakdown of security in that area including, but not limited to, Boko Haram is as a result of people that have been displaced whether they are fishermen, agriculturists or canoe operators. These people have lost their livelihood and in the process they became an easy target for recruitment by not just Boko Haram but other criminal organisations.
So, it is very critical that the basin is restored so we can now reduce this possibility of crime in the area. Most importantly, having the Lake Chad also helps with climate restoration because you will have more rainfall and therefore more trees in that particular area when they are planted.
The restoration is estimated to cost over $50 billion. It is not a project that can be hurried because it took time to happen and it will take time for it to be restored. It is something that African countries cannot do alone. The international community is aware and we have some indication that countries are willing to come in and help in that respect. So, it is a very big project for Nigeria and those countries and the rest of the world because the stability of that area and the climate restoration is something that will impact the entire world.
Various people have recommendations on how the Lake Chad can be restored, what method is Nigeria disposed to?
We are still looking at different possibilities. We have the inter-basin water transfer. Perhaps water from not just one source but different areas to recharge the lake. It may be difficult to expect that the volume of that lake can come from one particular source.
So, this is to be a collaborative effort among the countries. It may not be on the Lake Chad Basin area but as an African country whether you are away from the Chad you will still bear the brunt of ecological displacement of the region. So, the situation is being studied to know how best and with the minimal destruction if any that the Lake Chad will be restored.
There is another security issue linked to the climate challenge of deforestation. How is the Federal Government's tree planting project trying to tackle this?
There is an update on the tree planting project, we have an agency that is called the Great Green Wall (GGW) project, being handled by an agency under the ministry. The project involves about 11 countries at the upper top of Nigeria, the very northern part, to put a barrier between the desert and other areas. Of course, tree planting helps reduce desertification, so we have that agency, it is in collaboration with other agencies and of course you know that it's Nigeria with other 11 countries. We met in South Africa recently to reinvigorate the project.
Desertification can also cause insecurity, climate disruption and climate change, it's something you have to do because the trees are the biggest carbon sink on our planet and removing them aggravates climate change.
The FG has committed at the UN general assembly in New York that Nigeria will be planting 25 million trees and the Ministry of Environment is at the forefront of this project, we have something in place we are working on which will be the springboard to achieving that and in a very short time we will unveil the programme for the planting of those trees.
Recently, government and the United Nations Development Programme (UNDP) have been working with young people. What is the extent of involving the youth in the drive to combat climate change as well as other sustainable development issues?
This tree planting exercise is going to be a collaboration between the ministries of environment, women affairs, youth and sports, education and others. In terms of youth involvement, we have 6 geopolitical youth hubs that are climate centered. We planned to have a national youth hub but we had to postpone it because we want everybody to be present for that meeting. UNDP is actually sponsoring the youth hub, so they are part and parcel of that. Mr President has also promised to involve the youth in governance. So, the youths are on center stage today because the time has come for the youth to lead.