Conservationists and wildlife experts are anxious that raging bushfires sweeping through Australia have resulted in "catastrophic losses", amid fears an entire species may have been wiped out.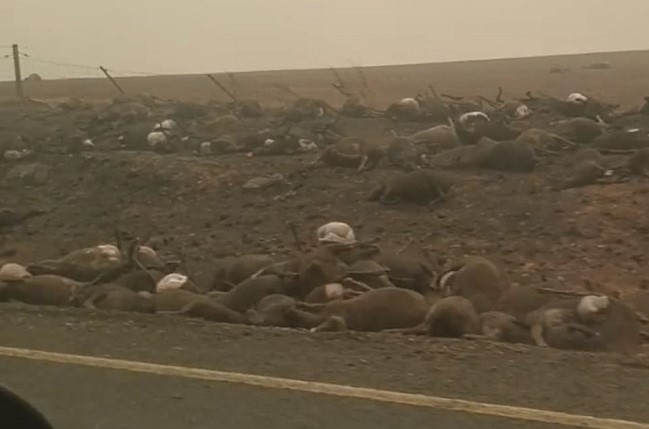 Populations of small marsupials called dunnarts and glossy black cockatoos may have been destroyed in the fires that burned a third of Kangaroo Island, experts say.
The island, located off the country's southern coast, is known as Australia's answer to the Galapagos Islands – but what remains has been described as a "scorched wasteland".
Ecologists are hoping to find survivors of the dunnart population and rescue them "before they are completely gone".
Heidi Groffen, an ecologist and coordinator for the non-profit Kangaroo Island Land for Wildlife, said the mouse-like marsupials are too small to outrun wildfires and the population of around 300 may have been wiped out.
But she remained hopeful some may have found refuge in the crevices of rocks.
"Even if there are survivors, there is no food for them now," she said. "We're hoping to bring some into captivity before they are completely gone."
Pat Hodgens, a fauna ecologist for the same non-profit, told the The Independent: "It's early days, fires are still burning but we have lost a lot of critical refugia for endangered species which will affect long term viability of these species.
"The Kangaroo Island dunnart is our main species of concern and it looks like its entire known (habitat) range has been fried. We are locating unburnt remnant patches of its habitat to see if we can locate it through camera trapping."
Mr Hodgens said a team has already set cameras to try and detect any survivors and hope to locate all potential areas the species may persist in through drone mapping.
The 50,000-strong koala population on the island has also suffered devastating losses, with as much as half the population believed to have been killed by the fires.​
And it is unclear how many from a unique flock of the rare glossy black cockatoos escaped the blazes and whether they have a future on an island where much of their habitat has turned to ash.
Daniella Teixera, a conservation biologist working on a doctoral degree about the birds at the University of Queensland, said: "We don't know the extent of the damage on the KI glossy habitat but we do know that critical areas of feeding and breeding areas have been burnt. Currently a waiting game."
She believes the birds were in "the best position to escape" the fires because they were able to fly away, but like the dunnarts, the cockatoos may find they don't have enough food left on the island.
The birds only feed from a single type of tree known as the dropping she-oak, and many hot spots on the island continue to burn.
Ms Teixera said careful conservation work over the past 25 years has seen the glossy black cockatoo population increase from 150, but those gains have been wiped out in the space of a week.
Sam Mitchell, co-owner of the Kangaroo Island Wildlife Park, said: "We are seeing kangaroos and koalas with their hands burned off – they stand no chance. It's been quite emotional.
"We will do whatever we can to rehabilitate the native wildlife but it's going to take years to recover," he told Adelaide Now.
By Kate Ng, The Independent