The Nigerian government is addressing climate change as part of the various sectoral policies and management instruments that are related to the global phenomenon.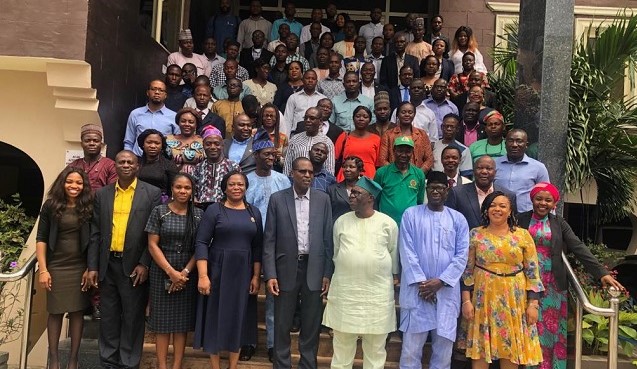 Mrs. Ibukun Odutose, Permanent Secretary, Federal Ministry of Environment, made the submission in a presentation at the South-West Regional Knowledge Deepening Workshop on Climate Change in Lagos on Monday, September 9, 2019.
According to her, climate change is being taken as a strategic development issue in all areas of public policy.
"There is no gainsaying, there will be some changes in climate that cannot be avoided due to past and inevitable future global emissions, but the detrimental effects can be avoided if we can reduce greenhouse gas (GHG) emission to an acceptable level.
"Therefore, we must move beyond thinking about climate change and global warming, to take action as a nation. Since taking actions that will alleviate the effects of climate change and a warmer world is everyone's responsibility, we will be interacting and working with the general public, individuals, communities, businesses and industries, international partners and the global community to create the necessary awareness in this direction," she said.
Odutose added however that, as committed and zealous to combating the effects of climate change as government may be, "our efforts alone cannot give us the desired goal, until and unless the state governments share in our vision, effective collaboration and fully partner with us in contributing their time, knowledge, resources and committed trust to support the achievement of our statutory objectives".
Director, Department of Climate Change in the Federal Ministry of Environment, Dr. Peter Tarfa, disclosed that improving awareness and understanding of climate change, and creating solutions to facilitate access to information on a changing climate are key to winning public support for climate-related policies.
"The United Nations Framework Convention on Climate Change (UNFCCC), through its Article 6, calls on governments to educate, empower and engage all stakeholders and major groups on policies relating to climate change – a call that is echoed by the Kyoto Protocol (Art. 10(e)) as well as by the Paris Agreement (through its Article 12)," he said.
Tarfa noted that though governments and IGOs are already working in partnership with civil society to fulfil the above commitments, the scale of challenges posed by climate change however requires an engagement on outreach activities of a greater magnitude.
Speaking on the ongoing review of the nation's National Policy on Climate Change, Prof. Olukayode Oladipo of the University of Lagos, Akoka, stated that a new policy will indicate the pathway for climate-resilient development in the country towards:
improving the legislative and institutional framework for climate change responses;
promoting low carbon climate resilient development, and
enhancing national capacity to mobilise international and national resources, both technical and financial, for investment in climate change, among others.
Oladipo, a climate change specialist, emphasised that the main outputs expected from the exercise are a Revised National Policy on Climate Change and a National Climate Change Programme and Management Plan.
"While revision will be based on the global guidelines, with an inclusive approach to ensure national ownership at all levels, the methodology also entails a stepwise approach that will make the process cost-effective and provide a good framework within which appropriate initiatives can be developed and implemented for climate resilient development," he disclosed.
The two-day workshop that was attended by representatives and Climate Change Desk Officers from Lagos, Ogun, Oyo, Osun and Ekiti States, was aimed at improving knowledge on climate change at the sub-national level, ensure participation of the sub-national government in drafting of National Climate Change Awareness Strategy Acton Plan, enhance understanding and collaboration with states on the Nationally Determined Contribution (NDC) implementation, and elicit commitments and support from relevant stakeholders at the state level.
It is the second in a series of Regional Knowledge Deepening Workshops on Climate Change, the first being the South-East Workshop held in Enugu, Anambra State from May 20 to 21, 2019. The workshop was co-organised by the Lagos State Ministry of Environment and Mineral Resources, and supported by the United Nations Development Programmes (UNDP).
At the end of the Lagos deliberations, delegates, among other recommendations, agreed that:
Inter-agency collaboration and cross-sectoral approach among federal government and sub-national governments are critical for the effective implementation of the NDC and the Paris Agreement;
Domestication of National Policy on Climate Change at the sub-national governments and amplification of government actions on climate change policy implementations is required;
Data collation and archiving at all level is highly recommended;
There should be improved synergy on climate change policies, strategies and amongst various responsible institutions at all level of governance;
There is need for relevant stakeholders mapping;
Need for states to collate researches on impacts of climate change and proposed way forward which can support in drafting policies, projects and programmes;
Call for development of National Education & Awareness Strategic Action Plan on Climate Change for states to streamline into their activities;
Need for Regional Climate Summit to ensure more coordinated activities within the country;
Need to streamline climate change and health interventions in States climate actions; and,
Need to allot more funds for awareness creation and advocacy amongst all stakeholders on climate related activities at all level.