The Bread of Life Development Foundation (BLF), a Lagos-based non-governmental organisation (NGO), has said that the recent increase in price of Petroleum Motor Spirit (PMS), or petrol, from N86.50 to N145.00 per litre will further increase scarcity of safe drinking water in the country.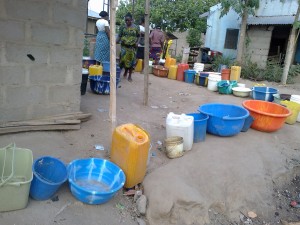 In a statement issued on Monday and endorsed by its programme officer, Taiwo Owolabi, BLF noted that majority of Nigerians depend on fuel powered generators to pump water from boreholes, household wells, and other sources into storage tanks. The group added that the about 80% hike in fuel price will make the product less affordable to Nigerians, thereby decreasing their capacity to access safe water from groundwater sources for drinking and sanitation purposes.
"About half of Nigerian populations presently do not have access to safe drinking water and sanitation services; and majority of those with safe access to water are serviced by private water vendors that source water from groundwater sources, through the use of fuel powered engines," declared BLF.
Expressing concern over the increased fuel price, BLF stated that it will further compound urban and rural poverty, with critical implications for access to safe water, sanitation, and hygiene services in Nigeria, "as the common man will find it more difficult to afford the high cost of PMS to pump safe drinking water from groundwater sources to storage tanks."
The group called for a downward review of the fuel price, adding that the financial gains of oil price deregulation will likely be eroded by social and economic costs of poor access to WASH (water, sanitation and hygiene), which it listed to include increase incidence of water related diseases, drop in school enrolment, as well as infant and maternal mortality.