Mary Msampha used to walk 10 kilometres to and from her house searching for water in Lipiri, Dowa District, Central Region Malawi.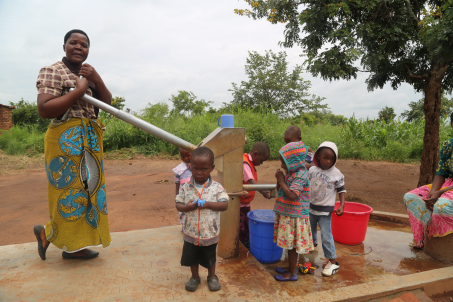 The area is within the control of Traditional Authority (T/A) Kayembe and shares boundary with T/A Chakhaza, another popular chief in the district.
"Our children suffered a lot. Even cooking food was a challenge without water. Secondly, as you know that when you have infants or young children you have to wash their nappies, this was another setback," says Msampha.
Most of her time was spent on searching for water. Little time was spent on taking care of her family and practicing farming, according to Msampha.
"We sometimes had no option but to travel to a distant place called Kawande to draw water," recalls Msampha, adding that, like other women, they were subjected to long queues and sleepless night as their efforts to draw water.
People in Lipiri, Dowa are both great commercial and subsistence farmers of beans, cotton, maize, groundnuts, soya sorghum and other crops.
Dowa is an agricultural district which focuses on cotton and groundnut farming, and the main food crops produced in the district are maize, sweet potatoes and pulses.
Even a visit to the area showed that the area has no enough portable water. Perennial rivers from where people can fetch water for home use and dambo farming are also few, prompting such challenges women encounter.
Msampha adds that government funded community-based care centres including those of various organisations such as World Vision in Lipiri were affected.
"It was difficult to run a Community Based Care Centre (CBCC) without water because apart from teaching children every operation depends on water. For you to prepare porridge, wash their clothes, one needs water. It was a problem running CBCCs then," explains Msampha, who also teaches at Lipiri CBCC.
Today, such calamities have become history. The area has more holes drilled by World Vision. Children and community members, who also used to suffer from waterborne diseases, can now afford a healthier life.
Water is also available in most CBCCs. "We now have the audacity to fetch water from boreholes World Vision drilled in the area. We no longer complain because we even have gardens where we grow vegetables to supplement the diet," says another mother identified as Naphiri.
World Vision Central Region coordinator Liddah Mtimuni Manyozo says that, currently, the organisation has intensified the drilling of 43 holes in Lipiri Area Programme.
"To this day 37 holes have been drilled with two dry holes in Lipiri, which has a population of 22, 382. On average," said Manyozo.
The initiative is meant to deal with water challenges children and others face in homes, schools and habitable place. In fact, in other areas World Vision is drilling solar power driven boreholes.
By George Mhango