Governor of Akwa Ibom State, Udom Emmanuel, has said that, in responding to the challenges of climate change, the state has adopted several measures aimed at not only curbing the phenomenon's biophysical and socio-economic consequences, but also ensuring that it does not negate some of its developmental programmes.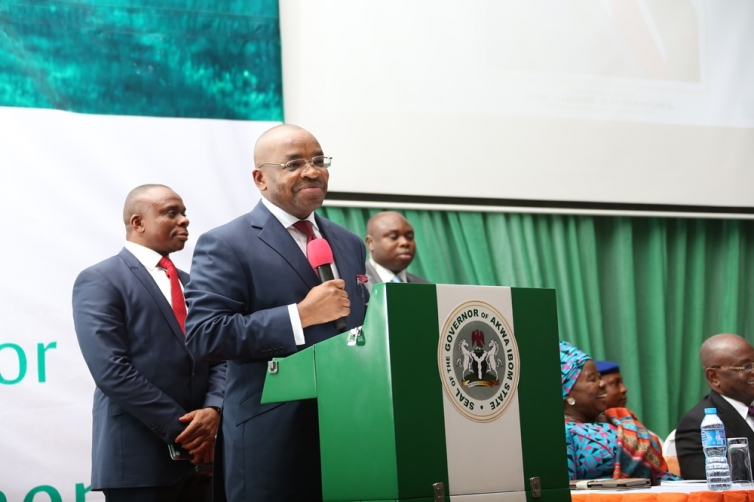 Emmanuel, who spoke during the opening of the state's maiden Climate Change and Clean Energy Summit/Expo that held recently in Uyo, the capital city, lamented that Akwa Ibom, as a coastal state, is very vulnerable to the negative impacts of climate change. According to him, climate change is real and is already affecting various sectors of the state economy with serious consequences.
"Many coastal and riverine communities in the state are already relocating due to the rise in sea levels leading to excessive flooding while others have been submerged," he disclosed, adding that government recognises the fact that, unless a good response strategy is developed and judiciously implemented, climate change may negate some of its developmental efforts.
To coordinate the activities aimed at tackling the negative impacts of phenomenon, he stated that government has set up a Multi-Sectorial Technical Committee on Climate Change, even as it has upgraded the Climate Change Unit at the Ministry of Environment and Mineral Resources to a full-fledged Division and recruited professionals to man and run the Division. He added that the current review of the State's Environmental Management Law has a section on Climate Change Mitigation.
According to him, government has likewise undertaken measures to protect, preserve and prepare the environment for the planned industrial revolution – a venture he described as fairly successful.
His words: "This is made possible through the successful implementation of various environment-friendly policies in the state. For instance, with the reintroduction of the monthly sanitation and proper waste management system, the state has recorded remarkable improvements in environmental sanitation."
Shedding some light on the state's industrialisation ambition, he said: "We have set in motion a massive mechanics and drive to achieve this through the constitution of key Technical Committees – Foreign Direct Investment (FDI) as well as Agriculture and Food Sufficiency as well as that of the realisation of the Ibom Deep Seaport, signing of MOUs, ground-breaking ceremonies – all these efforts are aimed at deepening our economic base and weaning us off of our over dependence on oil.
"Some of these projects include the Ibom Industrial City which will house the deepest seaport in Nigeria (the Ibom Deep Seaport), an Automobile Assembly Plant, LED factory to produce low energy bulbs, metering plant in Onna, the coconut refinery to be located in Ikot Abasi, Mkpat-Enin Eastern Obolo axis and numerous other large-scale industries that are in the works."
He stressed that the summit's objective is to address issues that will support the state's transition to a low carbon and climate resilient economy, while exploring the abundant renewal energy resources and innovative technologies that would enable it contribute to the goal of providing universal access to energy in Africa by the year 2025.
"I am aware that Nigeria's Intended Nationally Determined Contribution (INDC) blueprint submitted as part of the negotiations leading to Paris Agreement aligns with the theme of this summit. Therefore, as a major oil producing state, we desire to work with the Federal Government and other stakeholders in achieving the INDC targets, especially on ending gas flaring by 2030 and increasing energy efficiency.
"In our effort to turn waste to wealth, this administration has focused on recycling of waste as an alternative means of removing useful products from the huge wastes generated in the state.  This will help in achieving our desired goal of providing employment and generating income for the citizenry," Governor Emmanuel declared.