Humans and wild animals face new challenges for survival because of climate change. More frequent and intense drought, storms, heat waves, rising sea levels, melting glaciers and warming oceans can directly harm animals, destroy the places they live, and wreak havoc on people's livelihoods and communities.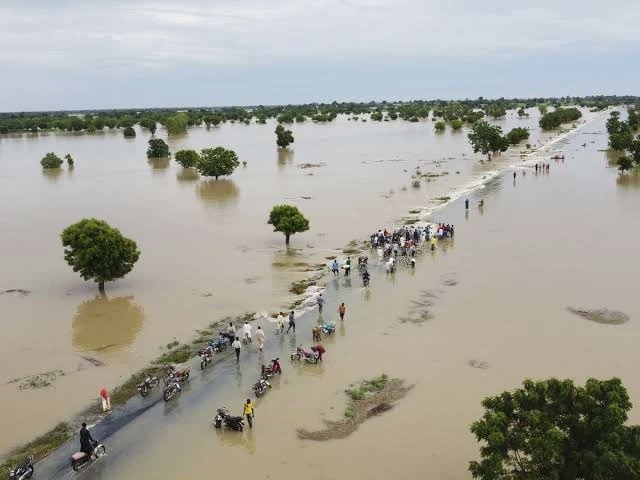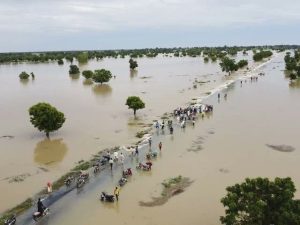 Floods are a recurring natural hazard in Nigeria and have become more frequent throughout the country in the last couple of decades. Agriculture, health, infrastructure, the economy, and trade are all negatively impacted, as evidenced in 2012 when severe floods contributed to reduced economic growth in agriculture and trade.
Increased flooding due to sea level rise will have negative impacts on agriculture, the economy, coastal infrastructure, human health, coastal ecosystems, and human settlements. Sea levels have been rising along the coast of Nigeria, causing coastal erosion and some villages to be lost.
Kabayi is a poor neigbourhood in Mararaba, close to the nation's capital, Abuja, in Karu Local Government Area of Nasarawa State. Like many poor neigbhourhoods, Mararaba faces the challenge of poor infrastructure, prominent among which is drainage system.
Due to the poor drainage, many parts of the community were inundated with flood water whenever it rains heavily, leaving on its trail, destruction of property, including buildings and household items.
The rains have been very heavy this year. Some people say it is one of the heaviest resulting in flooding in many parts of the country.
According to a report poor or non-existent drainage systems are a major cause of flooding. Many residential areas have no drainage system and rely on natural drainage channels.
Some experts attribute extreme weather condition to the depletion of the ozone layer which they say has led to climate change.
There has been flooding in several parts of Nigeria such as Kogi, Benue, Anambra, Taraba, and Rivers states, among others.
According to the Federal Government, 500 persons died in the last few weeks due to the natural disaster.
The Federal Government at the meeting of agencies connected to the recent flooding said that over 45,249 houses were destroyed and 70,566 hectares of farmland were destroyed.
Minister of Water Resources, Suleiman Adamu, said during a recent media interview that the behaviour of some Nigerians contribute to the flooding challenge.
"Many Nigerians just refuse to be law abiding. They have built on water courses, they have blocked drains and water channels," Adamu said.
But the Kabayi residents have decided to fight the flood menace through community efforts.
Mr Antamen Sunday leads a team of community volunteers, who are championing the cause of keeping the wastes off the drains and thereby saving their neighbourhood from impacts of flooding.
"We are aware that this place is under Karu Local Government Area. The local government council is supposed to carryout environmental sanitation activities in this area to keep the drain system from being blocked.
"However, we are also conscious that we are directly affected by the sorry state of this system and have decided to provide our own solution pending the intervention of government. We cannot continue to wait for the council.
"We organise ourselves in groups and take turns to clean up the water ways. It is voluntary, and some members sometimes contribute money for their refreshment," Sunday said.
In San Francisco, some communities in 2016 chose "Adopt a Drain" to tackle flooding and other related environmental issues.
The New Humanitarian explained that the programmes involved volunteers, who help keep storm drains clear of debris, improving water quality and preventing flooding, citing Oakland resident, Peter Crigg, as the arrow head of the campaign.
"It's a big benefit to the city, especially during a big storm…being able to mobilise hundreds of people can prevent a lot of flooding," it reported.
Being a poor neighbourhood unlike San Francisco, it is doubtful if the Kabayi volunteers have enough steam to sustain the project long into the future.
Some residents of the area are grateful for the efforts of the group, and are calling for support for the team.
"They are really doing a wonderful job," said Mary Gabriel, a resident of the area. "Since they started this project, we have witnessed less cases of water flooding into people's houses. The other time, the water pulled down my neigbour's fence and flooded another house nearby.
"But we did not witness that in the last few rains, although they were also heavy. We know that it is the duty of government to take care of this type of situation, for now, the community group's approach is helping," she said.
For now, the volunteers have worked throughout the 2022 rainy season, and Dennis Amos, another member of the team, is optimistic that it will continue with the work even into the future.
"We are ready to continue with the work and we will do just that. The only thing we need is support, both moral and financial from the local government authorities and even non-governmental organisations.
"As you may know, volunteerism is a relatively new concept in this country; it is not in our culture so, it will be great to get moral and if possible logistics support from the right quarters.
"This service we have chosen to render for our community and we will stick to it," he said.
Saudat Aminu runs a grocery store in the area. She says the flooding has been a major hindrance to her business and is grateful that some members of the community have taken it upon themselves to try and remedy the situation.
"As you can see, I have a shop here. Whenever there is a downpour this place becomes a no-go-area and for days my business is brought to a halt.
"Unfortunately most of the times, the heavy rain that renders this place impassable takes place at night. So, after such rains, I can't even enter my shop. We in this community are happy for the efforts the volunteers are putting in," she told this writer.
Garius Ahmed is one of those whose house had been regularly inundated with flood water.
"It used to be a nightmare for us whenever it rained. Our building is usually flooded and we have lost properties worth several thousands of naira," he said.
It is suggested that the Karu Local Government Council partners the relevant stakeholders including state and federal governments to provide a more durable solution to the food problem in the area. Starting with the Kabayi volunteers, the plan will be a great idea.
As the world battles environmental issues arising from climate change, it has become important that communities and individuals complement government's efforts by adopting local pragmatic solutions to such challenges while governments fashion out more enduring responses.
By Uche Anunne, News Agency of Nigeria (NAN)