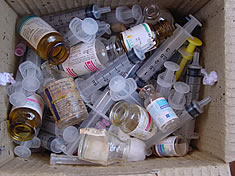 "Wastes are substances or objects, which are disposed of or are intended to be disposed of or are required to be disposed of by the provision of national law. It is therefore necessary for there to be proper management of medical waste to in order to ensure healthier environment and people."
These were the words of the Managing Director, Lagos State Waste Management Authority (LAWMA), Ola Oresanya, at the 2013 edition of the National Healthcare Waste Management Summit held recently. The event had "Healthcare waste management and the environment" as its theme.
Oresanya explained that waste goes beyond just disposal when it comes to healthcare waste. "The elements of proper waste management have to be applied due to its delicate and hazardous nature. Healthcare wastes have a peculiar nature because they are not regular materials at dumb sites. When seen, people and even waste handlers tend to mishandle it thereby exposing themselves to the hazards inherent in them like injuries and infections," he submitted.
He recalled that, in 2005, a seven-year-old boy in Ketu in Lagos was found playing around with used syringes which was found to have been indiscriminately disposed at a refuse dump. He added that, in 2011, three hospitals were shut-down in the Orile area of Lagos due to their indiscriminate healthcare waste disposal.
Oresanya stressed that LAWMA would continue to ensure that medical waste from hospitals and diagnostic laboratories are properly managed at all levels in the state.
Lagos State Commissioner of The Environment, Tunji Bello, disclosed that the Healthcare Waste Management Policy Bill being facilitated by LAWMA had been approved and signed by the Lagos State Government and would take effect in 2014.
The event included an Institutional Awards Presentations to several medical institutions in Lagos, including Premier Specialist Hospital on Victoria Island, Nigerian Navy Medical Centre Navy Town in Ojo, General Hospital in Apapa and the Health Facility Monitoring and Accreditation Agency (HEFAMAA).
Dr. (Mrs.) Adeola Eko-Pacheco, the only recipient of an individual award, received Best Medical Private Sector Participation (PSP) Manager. Eko-Pacheco applauded LAWMA for its consistent advocacy on proper waste management and rated the agency high on its healthcare waste initiatives.
The National Healthcare Waste Management Summit is an annual event where stakeholders in the health sector come together to map out ways to ensure standard practice is maintained and to award exceptional medical practitioners.
By Tina Armstrong-Ogbonna