The South Saharan Social Development Organisation (SSDO) and ActionAid Nigeria on Saturday, October 28, 2023, have tasked rural youths in Enugu State to take advantage of climate change mitigation opportunities around them to create a better and safer world.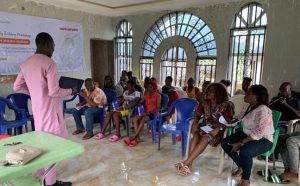 The two non-governmental organisations (NGOs) took their climate change mitigation sensitisation to youths in rural areas in four council areas of the state – Enugu South, Aninri, Isi-Uzo and Igbo-Eze South.
Addressing youths of Oduma community in Aninri council area during a sensitisation session, the SSDO's Programme Manager for Strategic Partnership Agreement (SPA) II, Mr Udochukwu Egwim, noted that there are numerous socio-economic opportunities open to youths that get committed to climate change mitigation.
Egwim said that the sensitisation, which was themed: "Strengthening Capacity of Youths to Understand and Contextualise Climate Change", had exposed youths to harnessing the power of the sun through solar technologies and waste-to-wealth approaches of waste recycling and reuse.
He said: "We have also exposed them to learning and fixing solar dryers (meant for agricultural crop preservation), and this will be highly beneficial to them as youths that engage in extensive agricultural businesses.
"We have stressed he need to collect plastic/nylon waste for recycling or better still use it to mix cement to make better durable interlocking bricks.
"Our bio-degradable materials can be gathered together to make compost (or manure for our farmers) and engage in teaching the older generation and children climate smart agriculture; and the need to protect and plant more trees, preferablly economic trees."
According to him, there is a need for youths to champion the efforts of climate change mitigation since they will soon take over from the elderly and become leaders in the future.
"It is good that they (youths) start today to create a beneficial and climate friendly environment meant to create a lasting sustainable environment that will take good care of them and generations to come," he said.
Egwim, however, warned against indiscriminate cutting of trees without plans to replace them multiple folds; need  cooking with wood and excessive use of vehicles that release carbon-monoxide where option of trekking exists.
One of the participants, Mr David Mbah, said that he had learnt of the severe consequences of not paying attention to climate change issues alter the biodiversity of Oduma community and that of Enugu State.
Mbah, who was trained during a Climate Change Boot Camp in Abuja, said that he was already mobilising to step-down all he had learnt to ensure that residents of the agrarian community and Aninri council area preserve the environment and maintain good eco-balance.
Another participant, Mr Uche Ani, said that the sensitisation had exposed him to other ventures that he could engage in during the off-farming season period that would be beneficial to him and his immediate environment.
Over 30 youths attended the three-hour sensitisation that featured lectures from various climate and environmental experts and advocates.
By Stanley Nwanosike