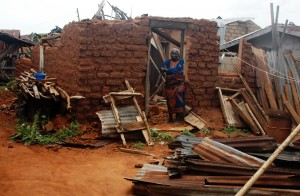 In 2012, Nigeria experienced remarkable floods that affected over 7.7 million people, causing the worlds's second largest disaster-induced displacement event of the year.
The floods, which ravaged 3,850 communities across 256 Local Government Areas in 34 states out of the 36 states of the federation, inundated farmlands, destroyed over 618 houses and caused large damages to schools, health care centres, leaving about 2.1 million people internally displaced and causing 363 fatalities.
On 12 of February, 2012 in Lagos, a wind of terror with an estimated wind speed of 75km to 100km swept though the state, causing great havoc to infrastructures and human population. These somewhat extreme weather events resulted in multiple disasters for which the extent and magnitude of losses and damages are yet to be quantified.
The above scenario are some of the several painted by a coalition of civil society organisations (CSOs) in the draft Lagos Climate Disaster Analysis Report, which came under scrutiny recently by stakeholders.
Operating under the aegis of the Policy Advocacy Project Partnership on Climate Change in Lagos (PAPPCC), the groups pointed out that though the disasters may not be evidence of climate change but can nonetheless provide an indication of what the future potentially holds for a changing climate in Lagos (and other parts of the country). They predicted that impacts of climate change would pose significant threat to economic security, food security, health security, environmental security, personal security, community security and political security, which the state seems to lack adequate capacity to handle.
At a daylong validation workshop, participants attempted a review of the document, which features sections such as Background/Introduction; Climate Change and Disasters in Lagos State – An Overview; Transportation; Analysis of the Effect of Climate Change on Water Supply in Lagos State; Gender, Social Inclusion & Climate-induced Disasters; Climate Disasters & Infrastructural Development; Education; Preliminary Baseline Analysis of the Impact of Climate Change on Health & Economy: Lagos State in Focus; Analysis of the Effect of Climate Change on Agriculture in Lagos State; and Policy Recommendations.
On agriculture for instance, the report emphasised that variability in weather patterns including increase in rainfall, cessation of rainfall, and unpredictability of rainfall onset dates/season and cessation dates have disrupted the timing of farming operations for farmers in Lagos State like elsewhere in Nigeria, thereby reducing farming productivity.
The variability, it added, has caused confusion about the best time to plant or harvest crops, leading to reduction in cropping season, low germination, poor yield and crop failure, early or late harvest, with negative impact on the substance of farmers.
Unexpected increase in rain has also been linked to flash flooding and destruction of crops; increased soil erosion; higher incidence of crop and animal pests and diseases and overall decrease in agricultural productivity. This, noted the report, poses a serious challenge to the farming population of the state who depend on rain-fed farming for their subsistence.
Such impacts will further aggravate the stresses already associated with subsistence production, such as isolated location, small farm size, informal land tenure, low levels of technology and narrow employment options; in addition to unpredictable and uneven exposure to world markets that smallholder farmers particularly risk-prone.
Reduction in agricultural productivity in the state will continue to increase it's dependence on other states and countries for its food security as well as increase the poverty level of the state's rural dwellers, majority of who get their livelihood from farming, animal rearing, fishing or processing of agricultural products for sale.
Some of the CSOs involved in the initiative include: Community Conservation & Development Initiatives (CCDI), Centre for 21st Century Issues (C21st), Network on Water & Sanitation (NEWSAN), Development Initiative Network (DIN) and West African Network for Peace Building (WANEP).