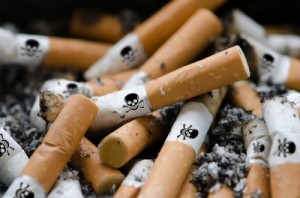 The Nigeria Tobacco Control Alliance (NTCA) has urged the National Assembly to fast-track work on the repackaged National Tobacco Control Bill. The NTCA Alliance Manager, Gbenga Adejuwon, made the submission in Lagos on Tuesday at a session to mark the 2014 World Tobacco Day (WTD).
The WTD 2014 has "Raise Tobacco Taxes" as its theme.
Adejuwon commended the Federal Executive Council (FEC) for heeding the cries of Nigerians expressed in the mass media and a recent poll that confirmed that nine out of every 10 Nigerians sampled demand tough legislation to stop the British American Tobacco Nigeria (BATN) and other tobacco transnationals gambling with the lives of living Nigerians and those yet unborn.
Emphasising that the time to raise taxes on tobacco is now, Adejuwon said: "This global commemoration is one we feel we can use to re-echo our demands for heavy taxes that will discourage potential smokers and push the burden of tobacco health borne by our government at state and national levels back to the tobacco companies."
According to the World Health Organisation (WHO), tobacco epidemic kills nearly six million people each year, of which more than 600,000 are non-smokers dying from breathing second-hand smoke. It further says that the epidemic will kill more than eight million people every year by 2030. More than 80 percent of these preventable deaths will be among people living in low- and middle-income countries like Nigeria, adds the global body.
Adejuwon described the recommendation on increasing taxes as a key endorsement of a WHO research, which confirmed that higher taxes are especially effective in reducing tobacco use among lower-income groups and in preventing young people from starting to smoke.
"A tax increase that jerks up tobacco prices by 10 percent decreases tobacco consumption by about four percent in high-income countries and by up to eight percent in most low- and middle-income countries," he stated, adding that increasing excise taxes on tobacco is considered to be the most cost-effective tobacco control measure.
A recent WHO report also indicated that a 50 percent increase in tobacco excise taxes would generate a little more than $1.4 billion in additional funds in 22 low-income countries. It added that, if allocated to health, government health spending in these countries could increase by up to 50 percent.
"We strongly believe that the Nigerian government will be contributing to protecting present and future generations not only from the devastating health consequences due to tobacco, but also from the social, environmental and economic scourges of exposure to tobacco smoke by increasing taxes on tobacco products and then channeling generated funds into treating patients of tobacco-induced illnesses and other illnesses that currently lack adequate funding," submitted Adejuwon.