The Council for Renewable Energy Nigeria (CREN) has said that it will build the capacity of youths so that they can be effectively engaged in all spheres of life, including renewable energy.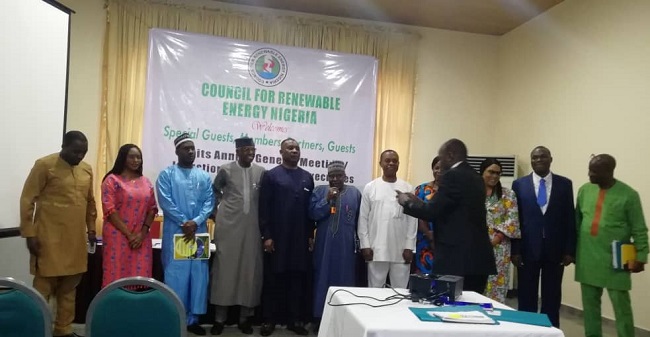 Newly elected president of CREN, Dr Sunny Akpoyibo, made the disclosure in a speech after his election in Abuja on Saturday, August 31, 2019.
He said: "I am honored to have the privilege to serve as the CREN President going forward. I follow in the path of the past president who devoted her all to ensuring the sustainability of this organisation and I pledge to embark on very vigorous advocacy campaigns.
"We are going to create more capacity for the youth. It has become an epidemic of hopelessness. You see them on the streets, dying of hunger; you see them risking their lives on the high seas, trying to get to Europe believing there is a better life there. Because they feel there are no opportunities.
CREN as an organisation stands in the right path to advocate on this through renewable energy and thus capacity will create more jobs and give them skills to compete in life. We shall also work assiduously to provide funding windows for members and also for those that shall undergo entrepreneurship training through CREN. A lot still has to be done and I assure you that we shall do all we can to make a difference in the coming years."
Secretary General, Sam Ifeanyi Nwosu, noted: "The CREN Executive Management Committee and Advisory Board continues to provide excellent leadership for federal and state level interventions and innovations to transform the energy sector in Nigeria through Renewable Energy technologies and applications.
"We are focused on many issues such as: digitalisation, entrepreneurship, women and youth empowerment, policy formulation and implementation, raw materials sourcing, standardisation of learning, materials and skills deployment, access to sustainable funding, access to sustainable power and interoperability. The Committee believes firmly that when we all partner together, we can work to address these issues and the energy security challenges of Nigeria in a productive way, sustainable and environmentally friendly way."
CREN, the principal association representing Nigerian institutional, corporate and individual professionals and leaders in the renewable and clean energy space, on Saturday announced its newly elected Executive Management Committee and Advisory Board to pilot the affairs of the Council.
They include:
Dr Sunny Akpoyibo, Asteven International Energy Group (National President)
Dr Imamuddeen Talba, Past Legal Director, Nigeria Electricity Regulatory Commission, NERC (Deputy President)
Sam Ifeanyi Nwosu, Environment Africa (Secretary General)
Engr. Jennifer Emiola-Iyiola, NIAKK International Business Ltd (Asst. Secretary)
Engr. Ganda Mohammed Yusuf (Treasurer)
Ms Olanike Olugboji, Women Initiative for Sustainable Environment (Auditor)
Dr Uzodinma Adirieje, (Publicity Secretary)
Prof. Abubakar Sambo, Nigerian Chapter-World Energy Council (Chair-Advisory board)
Alh. Isiaka Jimoh, Chemtech Chemicals and Energy (Member – Advisory Board)
Chief Mrs Anita Nana Okuribido (Ex-Officio / Secretary, Advisory Board)
Engr Rotimi Oladimeji, Ondo State Water Board, (Ex-Officio 11)
Dr. Akpoyibo, an expert on Renewable Energy and Green Growth, takes over from Chief Mrs Anita Nana Okuribido, who joins the Advisory Board as Secretary. The new President is joined by Dr Imamuddeen Talba, a former legal director of the Nigerian Electricity Regulatory Commission, NERC. Mr Sam Ifeanyi Nwosu and Engr. Ganda Yusuf Mohammed, who were re-elected to another term on the Management Committee, will serve as Secretary General and Treasurer respectively.
Newly elected Engr. Jennifer Emiola and Ms Olanike Olugboji, advocates for women entrepreneurship and empowerment, have also joined the committee as Asst. Secretary and Auditor. Prof. Abubakar Sambo continues in his current capacity as the Chair of the reconstituted Advisory Board with Alh. Isiaka Jimoh, joining him as at-large Board member.
Founded in 2007, CREN's mission is to identify, utilise and deploy large scale renewable energy technologies in Nigeria.