More than 10,000 people, mostly women and children have been displaced by the recent floods in Nigeria. Hundreds of communities in Anambara, Bayelsa, Benue, Cross River, Delta, Kogi, Niger, and several other states were affected. The disaster is described as Nigeria's worst since the civil war.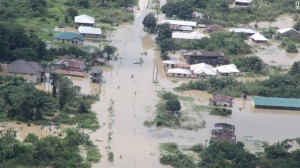 According to officials of the Women Environmental Programme (WEP), if nothing is done urgently, the humanitarian crises might result in an outbreak of diseases and several more lives will be lost.
To help salvage the situation, a group of young environmental activists have committed themselves to raising relief materials for victims affected by flooding in Nigeria.
The relief materials will be distributed to affected persons through WEP network of established volunteers.
"We use this medium to solicit for help and support from Nigerians in our bid to make life livable for these people who have lost their homes and livelihood to the effects of extreme weather conditions. Support should come in form of clothing  food and home items, blanket, bed sheets  mosquito nets and tents," the organisation disclosed.
The WEP is a non-governmental, non-profit, non-religious and voluntary organisation, which was established in 1997 by a group of grassroots women in Nigeria. The major aim is to address the gender injustices on issues relating to environment, economic and social rights of women, children and youths in the society.
To facilitate this process, the organisation creates and sustains interest in socio-economic and political issues especially among women and youth in the country and across the globe. WEP has United Nations ECOSOC special consultative status.