The Environmental Rights Action/Friends of the Earth Nigeria (ERA/FoEN) has called on the Cross River State House of Assembly to establish a Model Land Use and Allocation Management Commission in the state.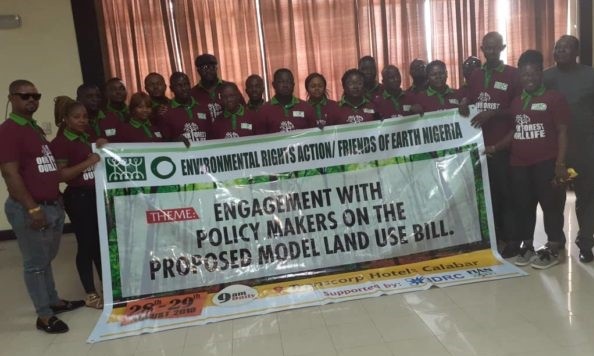 Executive Driector of the group, Dr Godwin Ojo, made the call on Thursday, August 29, 2019 in Calabar, the state capital, during an engagement with policy makers on the proposed model land use bill.
Ojo stated that the call became necessary following the excessive land grabbing across the state by government officials and companies without adequate consultation with the traditional rulers and stakeholders.
He said that the proposed bill drafted by the group has been presented to the Speaker of the State House of Assembly, Mr Eteng Jonas-Williams, for sponsorship and presentation at the floor of the house.
According to him, an oil palm plantation in Biase/Akamkpa Local Government Areas of the state was acquired without a roundtable Memorandum of Understanding between the hosts communities and the company.
He explained that farmlands and streams had been massively affected by the activities of the palm plantation.
Ojo, therefor, asked the House to review the MoU the company entered with the state government for effective further operations.
He said that the establishment of the commission would help to address the lapses of Land Use Act which include poor administrative system for lands, ownership, and the absence of community participation.
He explained that the proposed bill seeks to include community representation in the membership and acquisition of land.
He added that it would also initiate programmes and policies for land allocation/acquisition and promptly address grievances or disputes arising from land issues.
"The proposed bill also seeks to review the power of the governor to acquire land for public purposes that should be in conjunction with the recommendations of the bill to reduce the risk of misappropriation.
"The proposed bill will also provide for the prohibition of acquisition of agricultural land by foreigners to check the incidence of land grabbing and communities' dispossession and displacement from their farmlands.
"Also, it will provide for human rights protection and access to justice including freedom of information, that should be a part of the land act use management system to allow citizens participation and protection of community land rights," he said.
Speaking, Dr Maurice Olory, a member of the group, explained that Environmental Rights Action is an advocacy group for the protection of the environment and democratisation of development.
Mr Charlse Ekpe, a member of the State House of Assembly and Chairman, House Committee on Agriculture, confirmed the assembly's receipt of the proposed bill.
Ekpe added that the proposed bill would be written to suit the house style for presentation and to be given a speedy passage into law.
By George Odok