Mithika Mwenda, Executive Director of the Pan African Climate Justice Alliance (PACJA), in his remarks at the official opening of the 8th edition of the Conference on Climate and Development in Africa (CCDA-VIII) on Wednesday, August 28, 2019 in Addis Ababa, Ethiopia, says the meeting comes at the most critical moment in the history of the complicated, yet inevitable international dialogue on climate change. He describes the conference theme, "Stepping up climate action for a resilient Africa: a race we can and must win", as befitting; even as he insists that the Paris Agreement is inadequate to tackle the climate crisis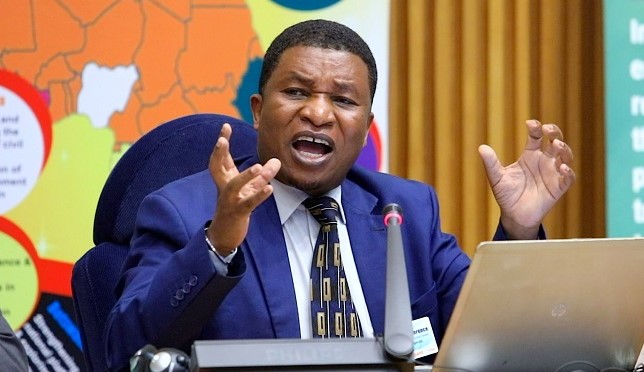 A pre-event for the civil society brought together diverse groups from all over Africa to reflect on what it means for local communities at the frontline of climate crisis whom we represent, and how we can effectively articulate their voices, their struggles and aspirations on without watering down the language which they would love to hear goes to their policy makers.
And since not everybody could travel to Addis Ababa, we heard from their representatives. I know there will be a session to present the summaries from the pre-events, but, Chair, allow me to briefly capture the spirit of yesterday's meeting:
A young woman from Sudan, Nisreen Eslaim, who actively participated in the peoples' revolution which triumphed over the 30-year autocracy told us that after winning the democratic struggle, they are faced by another catastrophic ecological crisis of monumental proportion, which, last week alone, killed at least 62 people and destroyed 37,000 homes. She is now very worried that though the people had capacity to mobilise themselves to rise against tyranny, their capacity to defeat the weather-inspired floods, which have become frequent, is diminished. She wondered why the "Loss and Damage" framework she has heard in UNFCCC Negotiations has not helped them.
Victoria, from Tanzania, shared a story of her President launching a Major Project which was criticized as potentially damaging the fragile ecosystem and against Tanzanian International Commitment to address climate change. The President is said to have rubbished the critics as people driving climate agenda, who are against Tanzanian development.
These are just some of the voices from people, generally fatigued by endless negotiations, conferences and declarations which end up gathering dust on the shelves of our government Ministries as the inaction on climate change, from National to international level, linger across the board.
We have worked with the Pan African Parliament to advance our cooperation, which has crystalised into the African Climate Legislation Initiative (ACLI), an innovative and unique arrangement for the African context. This will enable us to work jointly to pursue our shared vision of responsiveness to the health of the planet and the concerns of future generations.
It is indeed good that we gather annually for this African conference. As we asked ourselves during the UN Environment Assembly in March this year in Nairobi, do we need to be meeting year after year, making declarations which we do not honour? And that is why, as civil society, we share the spirit of the UN Secretary General, as we prepare for his Special Summit on Climate Change next month, which forms the basis for this conference. He has requested our leaders to talk less during the Summit, and limit themselves to 3 concrete actions they can take to address climate change. In our considered opinion, this is the way to go; to step up climate action for a resilient Africa, and indeed globally, and to win the race as per the theme of this conference. We challenge our leaders to walk the talk, and lead from the front.
This conference is very important. We all agree that it unifies our voices and actions. But we also need to cast our eyes and look at the broader context we find ourselves in. The question we should really ask ourselves is: "Will the outcomes meaningfully address and revitalise the diminishing focus on climate change among our leader?" As we know, our leaders' focus is slowly but surely turning to other issues dominating international diplomatic interactions such as Iran/US tiff, Brexit, Terrorism and the emerging extreme right-wing movements, which constitute a risk of increased climate scepticism.
As we meet here, indeed a few hours ago, around 20 African Heads of State, key AU and ECA leaders joined Japanese Prime Minister Shinzo Abe for the 2019 Tokyo International Conference for Africa's Development (TICAD-7). This comes a few days after the G7 Group of countries concluded their meeting in France. The two meetings have considerable significance for this conference and the outcomes we seek to achieve, as we rely on our leaders to carry them forward during the UN Secretary General's Summit in New York.
TICAD-7 can be a curtain raiser for New York Climate Summit considering the clout of the actors present; but this can only happen if they make climate change one of the priority areas of discussion. Unfortunately, browsing through the agenda, you will have reason to worry that we have work to do to convince our leaders that climate change remains the main challenge to the achievements of Agenda 2063 and all the cooperative initiatives, such as TICAD-7 and others. During the G7 meeting in France the US president skipped a side meeting to discuss the climate crisis, biodiversity and the Amazon fires. When asked by reporters, he is said to have retorted that "US wealth will not be used in windmills".
Both meetings illustrate the context we find ourselves in. As the most vulnerable region and communities at the frontline of climate crisis, we should not wait for others to shape the logic and narrative on climate change as they will do it to shape their geopolitical interests. The Governments and African citizens should be at the frontline of the evolving discourse on climate justice, which embodies us as a people.
And in the nine tracks in the UN Secretary General's Summit, which we meet to interrogate and come up with a unified vision, we as the civil society reaffirm our commitment to work with all Actors, as long as this aligns with the aspirations and expectations of Africa's people. In all successive negotiation outcomes, Africa has lost due to our inability to stand firm, and due to our susceptibility to forces of manipulation, intimidation and carrot-dangling.
We of course got the Paris Agreement, and the nationally determined Contributions (NDCs). Though we continue to insist that the Paris Agreement is inadequate to tackle the climate crisis, we will work with our governments, and indeed all other stakeholders in Africa, to deliver on its modest commitments, which we fear that industrialised countries will once again fail to honour like Kyoto Protocol.
Our only hope is unity of purpose, and the purpose which brings us here in Addis – to contribute to a process which will shape the future of humanity and health of the planet.