Concerted effort aimed at raising awareness and dissemination on the topic has been attributed as panacea to addressing the challenges of climate change.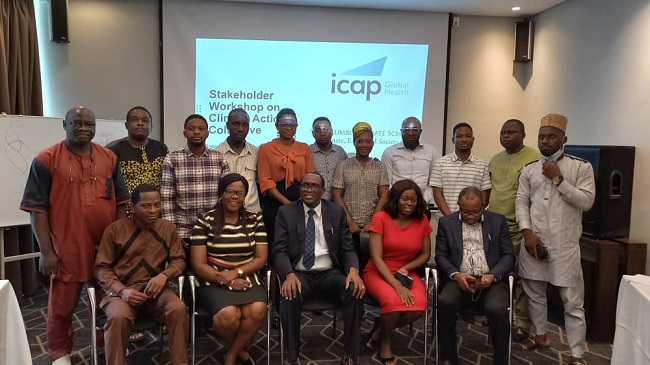 This was the position of a non-governmental organisation, ICAP-Health Global, during a Stakeholder Workshop on Climate Change in Lagos on Wednesday, April 20, 2022.
Environmentalist and consultant to ICAP-Health Global, Dr. Eugene Itua, maintained that government should focus on aggressive awareness campaign in combating the menace.
"There is no doubting the fact that governments at various levels are doing their best in sensitising the public, but they need to do more so that the people would be aware of its effect on them, as well as how to adapt to the situation," he said.
Dr. Itua stressed the need for government to intensify efforts to implement Nationally Determined Contribution (NDC).
"The Nationally Determined Contribution, signed in France otherwise known as Paris Agreement 2015, recognised five sectors including Agriculture, Oil and Gas, Transport, Energy and Industry with 20% conditional and 45% unconditional. Five years later, Waste Management and Water were added with 47% unconditional.
The consultant opined that "given the breath for which the phenomena, impacts and human experiences are associated with climate change, ICAP-Health Global partnered with Columbia University in establishing a climate school with a view of checkmating its adverse effect on the society".
Participants at roundtable session include Dr. Leslie Adogame of Sustainable Research and Action for Environment SRADev Nigeria, and Mr. Olumide Idowu of International Climate Change Development Initiative, ICCDI, representatives from other NGOs, private establishments and government institutions.
n his part, Dr. Adogame said a major concern for him is the threat that comes with climate change. According to him, "to an extent, we can't talk about insecurity at the national level without climate change especially in the area of outbreak of diseases, zoonotic diseases affecting aquatic lives, animal lives, livestock in general, even crops".
He added: "Another major concern is because development is a continuum and climate change is an after effect of continuous development and until we put a halt to the pace to which it's developing it might affect the earth as the earth can't carry the capacity as a result of the overload. Sustainability is a contextual thing and what is sustainable in this part of the world might not the same in other parts."
The SRADev Nigeria boss maintained that, as a result of heavy industrial projections especially in the urban centres, there is a lot of threat that will emanate from climate change so we need to prepare for the after effect.
Giving his own verdict, Mr. Olumide Idowu of International Climate Change Development Initiatives (ICCDI), urged policy makers of issues bothering on climate change should be actively involved for desired results to be achieved.
He cited the case of Ogoni Clean Up which is still a major headache for residents of that area.
He said: "Around 2016 officials of United Nations Environment Programme (UNEP) were brought to Nigeria with some funds earmarked for that purpose from the Federal Government yet no desirable result has been achieved till date.
"So, if experts put in place and they are not part of the implementation it's always a problem. The needs assessment is another way of determining what should be captured on ground and its going the reflect in the solution at the end.'
Mr. Idowu opined that issue of climate change is a gradual process and Nigerians should not expect an instant result.
By Adedoye Ajibola Saheed