There is an urgent need for a well-coordinated long-term action plan to deliberately conserve the dwindling natural resources in biodiversity in Lagos State.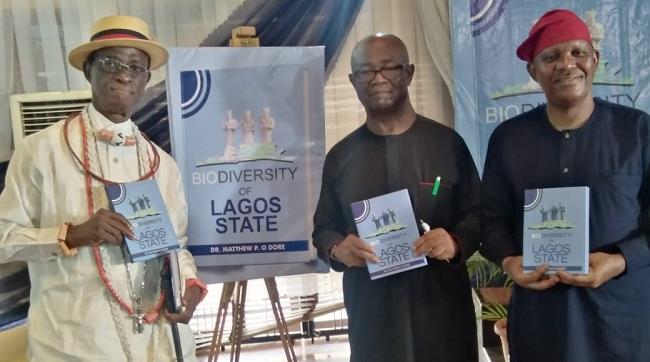 This formed the main thrust of a book to document the rich biodiversity of Lagos of the yesteryears before the exploding population, the abuse through urbanisation and the need to harmonise efforts to preserve such for the future. The book was launched in Lagos on Wednesday, April 20, 2022.
The 151-page book, titled "Biodiversity of Lagos State" authored by Dr. Matthew Dore, a crocodile enthusiast, former lecturer in wildlife science and environmental impact assessment expert, chronicled how Old Lagos was rich in the clean lagoons and creeks, mangrove forests, biological and medicinal trees, lush wetlands, and exotic species of wildlife before most of these were lost to rapid industrialisation.
The author said: "It is worrisome as I observed the once beautiful Lagos lose a large percentage of its natural resources in biodiversity to wrong fishing practices, continuous land reclamation for housing and environmental pollution, it became imperative to document these while advocating a multi approach for intentional preservation for the future."
In his remarks, the book reviewer, Professor Francis Arimoro, Dean of the School of Life Sciences, Federal University of Technology, Minna, stated that the book outlined properly into the introductory page, water and geographical bodies, protected forest reserves, conservation status, the present situation, the distorted ecosystem, landscape areas including drainage outline and land use perspective. It also included the recent trend of finding reptiles in homes and offices outside the natural habitat.
Arimoro said: "This is a thorough documentation and its essential that the author takes a step further to take the book to the secondary schools and higher institutions to explore the possibility of inclusion in the curriculum."
The chief launcher, who is also a public affairs analyst, Mr Bismarck Rewane, said: "Oil is fast becoming an obsolete commodity, Dr Dore's lifelong passion for an improved environment specifically the biodiversity is all-encompassing to enable Nigeria retrace her steps for a better future."
Representatives of the Lagos State Ministry of Agriculture and the state's environmental protection agency, LASEPA, were full of commendations for the author, describing him as an asset to the nation as "his efforts to call government 's attention to areas of need are germane".
Dignitaries led by the Imaran of Warri Kingdom, Chief Alexander Omaghomi, agreed with the author's advocacy that the public and private sectors collaborate effectively to reserve the swampy areas, protect the mangroves wetlands forests, lagoons and the ocean within Lagos State.
By 'Remi Oladeinde