Straddled across two vegetation belts – the tropical rainforest in the South and the savannah in the North – Ekiti State in Nigeria is predominantly rural and agrarian. The authorities however regard this situation as a blessing as, according to them, "almost everything we do is geared towards sustainable development."
While the South is characterised by activities related to resuscitation of the hitherto depressed cocoa plantations, a considerable level of land management and conservation is ongoing in the North, which is hosting the state's much-touted bio-fuel energy project.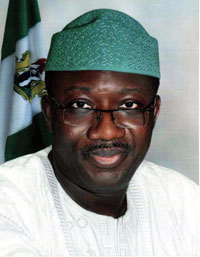 "You may be aware that Ekiti is actually going to become in a matter of one or two years the bio-fuel capital of Nigeria. The two major projects that are being developed now are on bio-fuel, which the Ministry of Trade & Investment, the British Petroleum and a whole range of institutions are involved in, in the northern part of the state," discloses Dr. Kayode Fayemi, the state governor.
Describing the assignment as a major commitment and a way of resuscitating the green belt, the governor stresses that, in the light of the global climate phenomenon, the state's multi-vegetation feature could be challenging.
"The way and manner that we also ensure that we protect the land cover in the state is in itself a statement about our commitment to green economy," submits Fayemi, pointing out that renewable energy-related projects are likewise being addressed in the state.
According to him, the fact that equal in distance in between Lagos and Abuja has offered an opportunity that government is exploring by turning the state into a place that is infrastructurally at par – or better – that Lagos and Abuja.
"So if you have a retreat, for example, and you don't want to run it in noisy Lagos or in busy Abuja, you will be looking for a place that really provides you a suitable environment. That is what we are turning the Ikogosi Warm Springs (IWS) to."
Located in Ikogosi in Ekiti West Local Government Area, the IWS is a natural phenomenon where warm and cold springs flow parallel down a hilly landscape and meet somewhere down stream to form a confluence and merge into a continuous water body. The evergreen tall trees that surround the springs provide the canopy under which visitors relax. The undulating landscape adds natural beauty to the scenery.
The facility is however now being given a facelift to an international tourist destination with the construction of chalets, extensive landscaping and infrastructures.
Fayemi continues: "If you have such a facility that is close to nature, that will allow you to relax, but can also meet all the conditionalities of modernity such as wireless access and a spar and a range of other facilities, many people will rather come to that quiet environment to work rather than stay in a busy environment which has its own issue. That means we are selling different things in the market and people would have to make up their minds what they want to come here for.
"That is partly why we are doing what we are doing. But we are also doing it because it is also right. Our people are no less human that the people who enjoy good things of life either in Nigeria or outside Nigeria. As a matter of fact, given our level of education, we quite frankly should have one of the best environments in the country. And that is why, as much as possible, we are doing things that we know would even pay us better in future."
He insists that his aim is to make Ekiti a destination of choice for business, investment and tourism.
By Michael Simire