The Federal Government of Nigeria on Thursday, October 26, 2023, commended the efforts of Guinness Nigeria in promoting responsible drinking, environmental sustainability and corporate social responsibility for the citizens.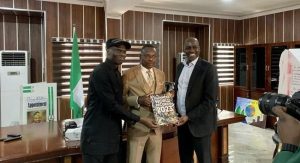 Minister of State for Environment, Dr Iziaq Salako, gave the commendation while hosting a team from Guinness Nigeria, led by Mr John Musunga, its Managing Director, in Abuja.
The minister said Nigeria was appreciative of the organisation's impact in many ways and also in contributing to national growth and development.
"I must commend you for your very high sense of corporate social responsibility.
"Some of the things you are doing are in the conviction that you cannot be an island, you must relate with the environment, community where you do business.
"So, thank you for believing in Nigeria and your persistence to ensure that you continue as a contributor to the economic growth of Nigeria.''
He said although Nigeria was faced with a lot of economic challenges due to poor decisions, the courage of the present administration would take the country to a path of recovery.
Salako called on the private sector to assist the government in driving the economy.
While commending the interventions of Guinness in many areas, the minister said the deliberate decision to reduce carbon footprints was laudable as Nigeria was working towards following suit.
He said Guinness Nigeria's decision to halt the production and sale of alcoholic drinks in sachets was impressive as it would help to reduce underage drinking and environmental pollution.
"One of the things that I advocated when we were doing the review of the public health law in Ogun is for the state to ban the circulation of alcohol in sachets because it makes it easier for people to access the underage and everyone else.
"Some other people with health conditions who should not be doing alcohol, but because it is so easy for them, they can put in the pocket, sell in the garages and all that; so it's definitely something that must stop,'' he said.
The minister however said he would be at the forefront of stopping the production and sale of sachet alcohol products, adding that it would be legislated upon.
In his remarks, Musunga said the visit was to strengthen relationships with its government partners and to further update the minister of the organisation's interventions in the country.
According to him, Guinness Nigeria has impacted no fewer than 180,000 persons in its employee value chain with an annual tax payment of N14 billion.
Musunga said the organisation was working to reduce importation of goods for its products and relying on local companies to promote backward integration, economic development and livelihood for local businesses.
While citing the challenges of access to foreign exchange, Musunga said the organisation was supporting local farmers in raw material production for ethanol, saying 80 per cent of products were sourced locally.
"It is cheaper to import; but you look at the economic benefits of sourcing locally and it makes more sense for us to support the communities around us by sourcing locally.
"So, for example ethanol, we now produce take 100 per cent of ethanol from Nigeria.
"The quality specification was not optimal; so, we spent a lot of investment to help the local suppliers upgrade the quality of ethanol from the facilities, albeit more expensive, but for the benefit of the sugar farmers,'' he said.
On his part, Mr Rotimi Odusola, Corporate Relations Director, Guinness Nigeria, said the organisation was working to promote positive drinking, champion inclusion and diversity, for greater impact and sustainability.
According to him, this includes the "Wrong Side of the Road" project to curtail alcohol abuse, the "Smashed Project" for alcohol education for young people, "Water of Life Project", "Recycling Alliance", among others.
Odusola said the Water of Life Project targeted the provision of solar-powered water facilities for water-stressed communities.
He said that many states had benefited with women taking ownership of operation and maintenance for sustainability.
Odusola said plans were underway to commission a 50,000 metric cube water facility in Lanlate community in Oyo to provide potable water for 11,000 people, adding that such projects had been going on in many cities for 30 years.
The corporate relations director highlighted efforts to reduce carbon footprints to include the Water Recovery plants which took water from its factories, process them and use for cleaning purposes.
"The water recovery plant is a system which takes treated water from our current effluent treatment plant and further purifies it using state of the art technology to the point where it becomes safe for human consumption.
"The recovered water is then re- introduced into our breweries for pasteurisers, hydrants, this process results in the reduction of water taken from the environment,'' he said.
He added that the organisation partnered with the Food Beverage Recycling Alliance (FBRA) to develop the recycling industry and innovate into more sustainable formats for food and beverage manufacturing firms.
Odusola said partnership with waste management organisations like WeCyclers and Sustivibes had addressed Post-Consumer Waste by collecting cans and pet bottles in different parts of the country.
By Tosin Kolade