The Standards Organisation of Nigeria (SON) has concluded plans to roll out new standard in paint production by January 2024. This is to ensure there is strict compliance to the current requirement of 90ppm for lead free paints all over the world.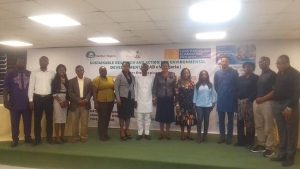 Dr. Ifeanyi Chukwunonso Okeke, Director-General/Chief Executive of SON, stated this on Wednesday, October 25, 2023, during a workshop on the Review Process of National Lead Paint Industrial Standards Labelling Requirement organised by Sustainable Research and Action for Environmental Development (SRADev Nigeria) in Lagos.
Dr. Okeke, who confirmed that SON is already reviewing the 2017, 2018 and 2019 current standards for paints, said: "We are driving to achieve lower values, so we are presenting the labeling requirement. For every product produced in Nigeria (not only paint) you must have a brand name, full trade mark, manufacturer's name and location name and address, product statement of identity, the batch number, date of manufacture and expiry date, certification mark, function of the product, precaution and warning statement, list of ingredients, the description of the product, the colour of the paint must be clearly stated on the container, batch number and date of manufacture among others.
"You must write the percentage or value of lead or result of the content of lead in that particular paint you are manufacturing, it is the current requirement, the standard is going to come, and SON will be giving all manufacturers only 6 months to exhaust the material already produced.
"We want to begin to see lead free paint in Nigeria, any manufacturer that does not follow the requirements risks such product being confiscated and tested, if the result comes out lower than the required 90ppm, a penalty will be paid for not labeling the product appropriately."
Represented by Mrs Tessy Ojomo, Deputy Director/Group Head Chemical Technology, Dr. Okeke in his goodwill message said: "The workshop organised by SRADev-Nigeria is of great interest to ensure health and safety in Nigeria with interest in the conduct of Lead Paint studies to obtain country-specific data, support for government in development and implementation of Lead Paint Standards and regulations and provision of technical assistance to help Paint Manufacturers switch to Lead free paints.
"SON being the major standardisation regulating body of the Nigerian Paints Industries ensures that all manufactured products in Nigeria are duly monitored, regulated and certified, that products are suitable, safe and guarantees maximum consumer satisfaction through compliance with relevant standards including government policies.
"The SON assures SRADev, the Paints Manufacturers Association of Nigeria (PMAN), the general public of its support in ensuring Standardisation and Quality for ease of doing business particularly in this goal to achieve lead free paint."
Representing Muhammed Ali Pate, the Federal Minister for Health, Mrs. Adeola Olufowobi Yusuff said: "Lead is a poisonous or hazardous chemical causing poisoning in human. Human exposure to hazardous chemicals in products like lead in paints, electrical bulbs, food stuff, water, batteries, children's toys etc are the concern of the Federal Ministry of Health and Social Welfare and hence to ensure that lead and lead products are eliminated.
"This is achievable through continuous sensitisation/awareness creation on the use of lead-free consumers' products, development of National Policy on Lead Poisoning and the possible implementation of the Policy to curtail the health effects, social and other impacts associated with lead paints, among others.
Kola Oladele who represented Dr. Charles Ike of the Federal Ministry of Environment noted: "Chemicals are essential ingredients of modern life and play an important role in national development and that is the reason lead is added to paint to accelerate drying, increase durability, maintain fresh appearance and resist moisture that causes corrosion. Though chemicals are very important in our daily living, if not handled properly, they can be deleterious to human health and the environment.
"The Federal Ministry of Environment acknowledging that sound management of chemicals is a prerequisite to achieving sustainable development and in line with its mandate has been making concerted efforts to ensure the environmentally sound management of chemicals including lead for the protection of the populace.
"However, lead is not needed in paint and increasingly countries including Nigeria are instituting lead paint laws to strictly control their use. One of the instruments that Nigeria has employed to regulate this is the Strategic Approach to International Chemicals Management (SAICM), a voluntary initiative adopted by the International Conference on Chemicals Management (ICCM) in Dubai in 2006 and aims to achieve the sound management of chemicals throughout their life cycle so that, by 2020, chemicals are produced and used in ways that minimise significant adverse effects on the environment and human health," he stressed.
In his remarks, Jude Maduka, Executive Secretary, Paint Manufactures Association, who noted that no paint manufacturer intentionally adds lead in his production of paint, said: "Lead enters paint through lead laden materials, wither through lead dryer or through lead containing pigments.
"Replacing the dryer has not presented any challenge, but replacing the pigments has posed major challenges which are technical in nature.
"Paint is raw materials intensive; most of these paint materials are not produced in Nigeria but imported. There are over 500 different types of raw materials for paint production. Out of these, only calcium carbonate, kaolin, talc and water are produced locally. You can see that over 80% of the raw materials used by paint manufacturers in Nigeria are imported.
"The nation's refineries and petrochemical complex are not functioning. We still rely on importation of inputs for our production. If the refineries are working/producing, they would have produced the materials which the petrochemical industry would use to produce some of our raw materials locally and we will rely less on importation.
"Our country's scarce foreign exchange will be conserved. Also, about 40-45% of the raw materials used by paint manufacturers would be sourced locally while 55-60% will be imported."
Nafisatou Cissé, Programme Manager, Lead Exposure Elimination Project (LEEP), said: "One in three children worldwide suffer from lead poisoning and lead paint is a major source.
"LEEP supports effective policies to eliminate lead poisoning across Africa, Latin America and Asia Member of the UN Environment Programme and WHO's Global Alliance to Eliminate Lead.
"Only 34.7% of all countries in the world have lead paint laws by working with relevant ministries and stakeholders to develop legal limit on lead in paint using Model Law Global Alliance to Eliminate Lead Paint (Lead Paint Alliance)."
She, however, commended the government of Nigeria for taking steps towards reducing lead in paint and hopes to support the effort to eliminate lead paint by establishing a collaborative roadmap to eliminate lead paint in Nigeria.
Dr. Leslie Adogame, Executive Director of SRADev, disclosed that the awareness programme under the auspices of LEEP is in commemoration of 2023 International Lead Poisoning Prevention Week (ILPPW) between October 22 and 28, 2023, as set aside by the World Health Organisation (WHO).
He said: "This awareness workshop is a scale-up, whatever that has been done in Lagos will be taken to other zones and demonstrated so that manufacturers there will follow the trend."
The event witnessed major paint manufacturers from all the six geo-political zones of the country with government officials at the state and the federal levels in attendance.
SRADev Nigeria is the focal point of the United Nations Environment Programme Strategic Approach to International Chemical Management (SAICM).
By Ajibola Adedoye