Heads of State, ministers and officials from 31 governments who met on Wednesday in Kasane, Botswana reaffirmed their determination to scale up their response to the global poaching crisis, and adopted crucial new measures to help tackle the unprecedented surge in illegal wildlife trade.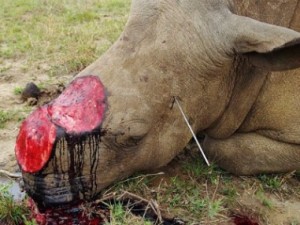 During the one-day meeting, governments reported on their progress since the London Conference on Illegal Wildlife Trade in February last year, when 41 countries and the EU agreed to take urgent and decisive action to combat wildlife crime, which threatens national security and sustainable development as well as populations of iconic species, such as elephants, rhinos and tigers.
Key successes in the past year include increased levels of law enforcement action, especially in Africa, which have led to a rise in ivory seizures, while some countries have started to improve their domestic wildlife-related legislation. Last month, 13 tiger range countries in Asia committed to a zero poaching framework and toolkit, which could be used as a blueprint for curbing poaching worldwide.
"World governments demonstrated here in Kasane how they are turning the commitments in the London Declaration into tangible actions on the ground and strengthening their resolve to see the job through," said Steven Broad, Executive Director of TRAFFIC.
The Kasane Statement builds upon the commitments in the London Declaration to eradicate the market for wildlife products, ensure effective legal frameworks and deterrents against wildlife crime, strengthen law enforcement, and support sustainable livelihoods.
Countries adopted a number of additional measures, including focusing on tackling money laundering and other financial aspects of wildlife crime.
"The commitment to follow the money is a huge, innovative step that provides a mechanism to bring down the trafficking kingpins by hitting them where it hurts – in their pockets. It should also help to stamp out the corruption that so often undermines enforcement actions," said Broad.
The Statement calls for the engagement of relevant community groups and the appropriate retention of benefits from wildlife resources by local people. Participants also agreed to engage further with the private sector, including logistics and transport companies, which are uniquely placed to stem the flow of illicit wildlife products but often find themselves an inadvertent vector for wildlife trafficking.
At the consumer end of the trade chain, extra impetus will be injected into understanding the motivations and behaviour of users of illegal wildlife products.
"Wildlife criminals have been reaping big profits for very little risk for too many years but the commitments agreed to in London and now Kasane could change the game by drastically increasing the risks for traffickers while also reducing their rewards," said Carlos Drews, WWF Director Global Species Programme. "The Kasane Statement also provides important backing for an ambitious United Nations General Assembly resolution on wildlife crime, which would raise the stakes even higher and encourage a more concerted global drive against transnational organised crime."
A strong UNGA resolution would be the ideal mechanism to monitor and report on the implementation of the commitments made in London and Kasane, which will be vital to the long-term success of global efforts to reduce the illegal wildlife trade.
"It's a year since London and while the tide is slowly turning against wildlife criminals, more effort is urgently needed because poaching levels are still far too high," said Drews. "Important progress has been made but the war against illegal wildlife trade will only be won if governments continue scaling up their efforts and working together to turn these commitments into concrete results."