Ahead of Nigeria's historic general elections, Connected Development (CODE), a non-governmental organisation (NGO) based in Abuja, has deployed a real-time geo-specific online platform to collate and provide citizens, particularly security agencies, disaster management agencies, media and electoral officials with real-time information about the conduct of the exercise. The platform will help check other irregularities capable of undermining the outcome of the elections while mitigating violence.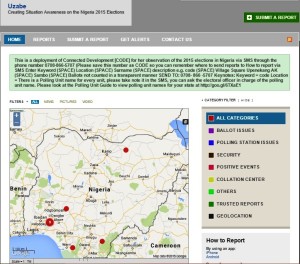 CODE believes that advancement in technology has made it possible for virtual communities like her to provide increasing support to election observation and electoral body response to emergencies during elections. Important cornerstones of this virtual effort are the possibility to access and take advantage of geo-spatial data, satellite imagery as well as the use of other mobile-based technologies such as Short Message Services (SMS), WhatsApp and global navigation information systems.
Chief Executive of CODE, Hamzat Lawal, stated: "Taking note of the need to connect our works with the electoral body, organisations working around democracy and governance in Nigeria, and as one of the 88 organisations accredited by the Independent National Electoral Commission (INEC) to observe the 2015 General Elections, with support from The Indigo Trust – a UK based grant making foundation that funds technology-driven projects to bring about social change, largely in African countries, we have created Uzabe (www.uzabe.org) – a real-time (web-based map) Open Situation Awareness Room for her over 1000 observers (in 31 states of the federation) and other citizens in the forthcoming elections in Nigeria aiming to report on the opening, accreditation, voting and counting processes during election day while establishing early warning systems for vulnerable communities and strengthening mitigation of violence and emergency response during violence".
Uzabe is also created to enable the rest of the public interface with CODE in shaping pubic discussions targeted at ensuring free, fair, credible and peaceful elections. "The technology is designed to work using SMS as its feedback mechanism as every household in Nigeria has access to mobile services," Lawal added.
CODE's over 1,000 observers in 31 states that has been trained would serve as Trusted Sources and would be sending geo-specific reports and descriptions of event on the scene as they unfold. "We hope to be able to showcase and tell stories on how technology tool can mitigate violence while equipping security, disaster management emergencies and the public with real-time information. Another interesting part is that the security agencies are keen and has committed on using our groundtruth reports. We would also analyse unfiltered crown (citizen) reports via Twitter and Facebook feeds that would help in enhancing the electoral process," Lawal explained.