The need for Nigeria to review its Environmental Impact Assessment (EIA) law has been emphasised in order to carry along the diverse stakes of the 36 states in the country due to the unique impact of climate change they face.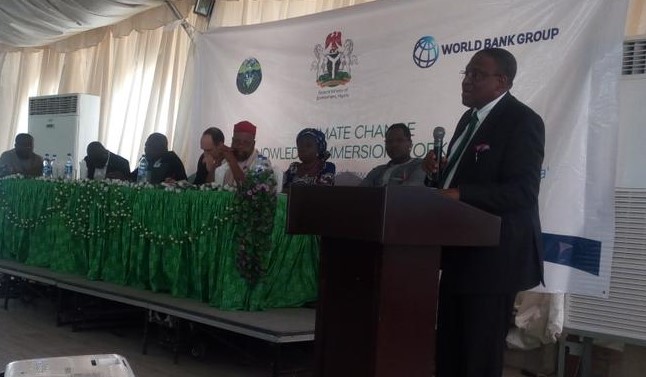 Prof Babajide Alo, who was part of the drafters of the EIA law and guidelines in 1998, made the plea in Abeokuta, Ogun State on Monday, February 13 2017 at the first leg of the Climate Change Knowledge Immersion Workshop series which was organised by the Federal Ministry of Environment's Department for Climate Change and the World Bank.
The Professor of Chemistry and erstwhile Deputy Vice-Chancellor of University of Lagos, Akoka, during his presentation at the workshop on impact of climate change, lamented that Nigeria's EIA laws and guidelines were categorised according to projects, a situation that does not allow state governments to play different roles in projects which are neither national nor international.
He called for a new law to empower state governments to "give agreement and approval to whatever project the Federal Government is bringing to their states before the final approval by the Federal Government."
This, he claims, will enable all the states to also start demanding EIA reports for all projects that are to be cited within their boundaries as is currently obtainable in Lagos State.
He said: "The Federal Ministry of Environment does not give approval for any project that does not satisfy the climate change requirements such as the super highway in Cross River State, which has stalled because of the its failure to show how the vast felling of trees will be ameliorated."
It is important and mandatory to take climate change issues on board for all projects whether it is in construction sector, oil and gas or agriculture."
As part of the required reviews for the EIA laws, Prof Alo enjoined the state governments to "have a good understanding of climate change impact in their states to enable them develop good climate change governance structure with clearly defined climate financing strategy in the annual budgets."
Other suggestions by the expert include: integrated state action plan which derives inputs from state climate change policy and adaptation strategies with national climate change policy and response strategy.
According to Prof Alo, "small scale uncoordinated intervention will not adequately address the challenges of climate change, hence the need for more integrated approach."
He also advised the states to set up a State Climate Change Fund for different sources to donate to for the setting-up of clearly defined mitigation and adaptation mechanism.