THE Federal Government has disagreed with those who describe the Paris Agreement Rule Book as a wild goose chase and a complication of the climate improvement programme.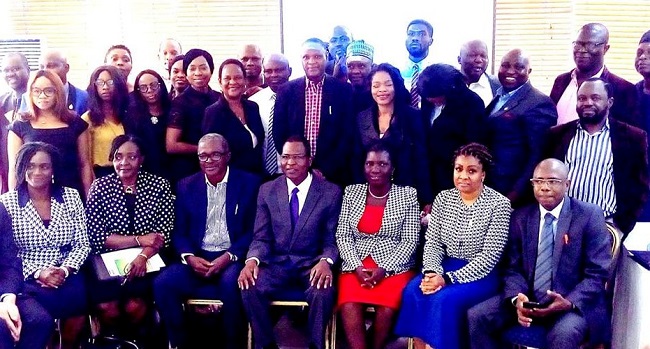 Director, Department of Climate Change in the Federal Ministry of Environment (FMOE), Dr Peter Tarfa, defended the Federal Government at the Roundtable on "Legal Preparedness for the Implementation of the Paris Agreement Rule Book" in Lagos on Thursday, March 14, 2019.
He made a presentation titled: "Overview of Nigeria's National Climate Response Measures: Policies and Strategies" at the daylong forum.
The Paris Agreement is a pact within the United Nations Framework Convention on Climate Change (UNFCCC), dealing with greenhouse-gas-emissions mitigation, adaptation and finance, starting in the year 2020.
Organised by Environmental Resource Centre (ERC) and Rule of Law Expertise of the United Kingdom (ROLE UK), the event had representatives of the Lagos State Government, civil society, private sector and international community as participants.
After the coordinator of Nigeria Climate Action Network (CCN Nigeria), Mr. Huzi Mshelia, had presented his "Climate Change Governance in Nigeria: Legal Framework for Climate Change Decision-making", some of the participants expressed cynicism that the Rule Book "has come to complicate issues in the Paris Agreement."
Those in this school of thought include the president of Green Alliance Nigeria and Head of Legal Services, Environmental rights Action (ERA), Chima Williams.
The cynicism is fuelled by the attitude of industrialised countries like the United States and China towards the Paris Agreement.
Another issue is that the nationally determined contributions (NDCs) of the pact have different timelines.
Tarfa described promotion of environmental issues in Nigeria as herculean, adding that even to defend the ministry's budget before the National Assembly is difficult, as the lawmakers prefer physical projects.
He, however, noted that government had been recording achievements as regards environment protection.
"We have succeeded in establishing climate change desks in the Federal Ministry of Environment and across the states. Even Cross River State has a ministry of climate change," he said.
On the different timelines of the NDCs, he said that a lot of them were put together by foreign consultants.
The director listed government's efforts to reach the Paris Agreement goal, which is to keep global average temperature increase well below two degrees centigrade.
He referred to emerging rail transport, eco-friendly filling stations initiated by Total, and new buildings with solar panel roofs as proof of government's efforts to meet its 2030 NDC timeline.
"It pains us when people sit down and tout that government is doing nothing," he said, adding that subsequent efforts would be more ambitious.
Other papers presented at the event include "International Climate Regime: Paris Climate agreement and Emerging Issues" by Christoph Schwarte of Role UK.