The Federal Ministry of Environment has announced the development of guidance notes for state governments to help in building capacity for effective state-level response to climate change.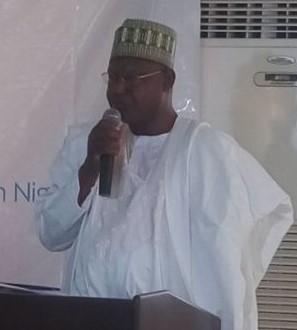 This was revealed by the Minister of State for Environment, Ibrahim Usman Jibril, in Abeokuta, Ogun State on Monday, February 13 2017 at the first leg of the Climate Change Knowledge Immersion Workshop series which was organised by the Ministry's Department for Climate Change and the World Bank.
According to the minister, the guidance note on climate change has been developed "at the request of state governments to help in building capacity for effective state-level response to climate change" which, he added, necessitated the climate change knowledge immersion workshops.
The immersion workshop, he noted, is part of the Federal Government enlightenment and sensitisation campaign across the country to enhance awareness of the government's policy on climate change.
Mr Jubril warned: "The impact of climate change that has befallen us is largely our making. If we fail to prevent runaway climate change, the earth will not disappear, we will."
As part of the implementation of the Paris Agreement, the nation's Intended Nationally Determined Contributions (INDCs) emphasised a conditional commitment of 45%, and an unconditional commitment to further reduce greenhouse gas (GHG) emissions by 20% by 2030.
To fulfill this commitment, the minister disclosed that the Nigerian government is set to implement the National Determined Contributions (NDCs) Sector Road-maps, which are targeted at reducing average global carbon emissions to two degrees Celsius.
According to him, "Nigeria is committed to economic transformation, which places inclusive green growth at the centre. Thus, the implementation of NDC is certainly the responsibility of Nigerian government to facilitate movement towards this new development path. However, we must take proper steps to educate and engage our people, develop and nurture collaborations and partnership between all of us – Federal Government, state governments, the legislature, private sector, civil society and the general public."
This is what has led to the development the guidance notes on climate change for state governments.
Mr Jubril further adds that "to deliver on our NDCs pledges, there is a need to have an appropriate institutional arrangement that will not only mainstream climate change into its development priorities, but also encourage the implementation of mitigation and adaptation initiatives at all levels of governance for sustainable development."
"We note that progress has been made at the federal level to effectively involve MDAs on climate change, much more needs to be done at state level," he affirmed, hence the need for a guidance note on climate change for states.
He also warned that translating formal agreements for climate action can only be successful when "stakeholders, including the public, agree to cooperate and collaborate towards taking concrete actions that will reduce emissions and promote adaptation to climate change."
"I believe the starting point of any successful action is solidly dependent on knowledge dissemination which should translate into adjusted behaviour of individuals, public and private sector."
On the knowledge immersion workshop, he stated: "The workshop is important as it will enable knowledge dissemination and discussion towards climate-resilient and low-carbon development in Nigeria.
"There is no doubt, therefore that  discussions at this workshop will afford us some tools that we will need in our various states to develop practical strategies for effective policy making, planning, budgets and investments towards sustainable development."
The workshop, which was hosted by the Ogun State Government, had officials from state Ministries of Environment from across the southern part of the country as well as students and the civil society.