One of the familiar narratives for the promotion of genetically modified (GM) crops is that they have the potential to alleviate poverty and hunger. But the real impacts of GM crops deserve closer assessment, writes Wanqing Zhou, research associate in the Food and Agriculture Programme at the Worldwatch Institute. The analysis explores trends and consequences of GM crops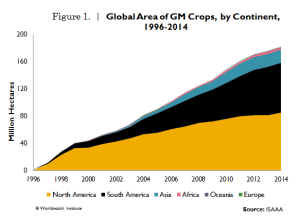 The amount of agricultural land used for GM crops has been increasing for more than two decades, reaching 181.5 million hectares in 2014. The largest GM crop producers are the United States, Brazil, Argentina, India, and Canada.
In 2014, the global value of GM seed reached $15.7 billion. The small handful of companies that develop and market GM crops has a near monopoly. In the United States, the agri-tech multinational Monsanto holds 63 percent of the Release Permits and Release Notifications for GM crops issued by the U.S. Department of Agriculture, and the seed company DuPont Pioneer holds another 13 percent.
GM crops have had their genetic materials engineered through biotechnologies to introduce new or enhanced characteristics, including herbicide tolerance, insect resistance, enhancement of certain nutrients, and drought tolerance. But instead of producing more food by improving yield, the benefit of these technologies more often consists of saving time and effort in farming, as well as reducing market risks for farmers. Based on the current profile of GM crops, the principal driving force today is demand for animal feed (soybeans and corn) and crop-based oils (soybean and canola) rather than for food consumed directly by people.
From a social perspective, although the efficiency improvement from the use of GM crops may give farmers time to turn to other sources of income, the transition also has led to the loss of land and livelihoods when farmers with more assets take over the land of less-resourceful and less-protected small farmers.
From an environmental perspective, the high and growing demand for meat and other animal products, met increasingly through the use of GM feed and industrial production methods, contributes to numerous environmental problems, from pollution to deforestation. Although growing herbicide-tolerant soybean and maize might be less damaging than conventional ways of meeting the demand for animal feed, in terms of the pesticide use and tillage requirement, the advantage is diminishing as herbicide resistance develops in weeds.
In the next five to10 years, the profile of commercial GM crops may diversify in both crop variety and traits to include fruits, protein seeds, and staple foods such as rice and cassava. To minimise the negative social and environmental impacts of this broadening of GM crop varieties, it will be important to adopt rigorous regulatory frameworks based on the principle of case-by-case assessment.