Over the years, thousands of people around the world have lost their lives to disasters, a gloomy reminder that when disasters like earthquake, floods and volcano eruptions strike, human life becomes fragile, subdued and disappears.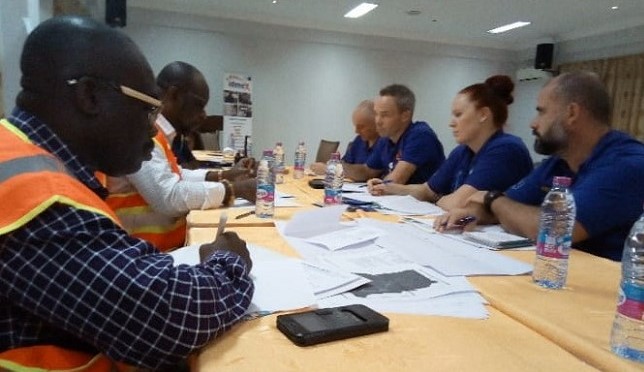 Nature based disasters are mostly unpredictable striking anytime, anywhere, hitting several countries, districts and areas concurrently. Almost and often, nations particularly developing, and least developed ones are ill prepared to handle wide scale disasters in terms of impacted area, numbers of people rendered homeless, lives lost, properties and facilities destroyed as well as vital installations threatened.
So, people in such nations are considered highly vulnerable to the impact of disasters. Hence, it makes sense for a nation to be in a state readiness and preparedness to handle disasters whenever they strike.
Ghana has had her own share of disasters such as the 1999 floods that swept through Upper East, Upper West, Northern, parts of Brong-Ahafo and Volta Regions and which affected 300,000 people and destroyed properties and farms. There is also the unforgettable 2015 Circle multiple disaster comprising flood, oil spillage and fire outbreak that had a ripple effect on the entire nation.
In all these instances, the National Disaster Management Organisation (NADMO) and its partner institutions, were able to manage the situation in the best way possible, supporting the victims and managing related issues.
The NADMO EU Disaster Response Collaboration
But now in view of the increasing frequency of disasters, NADMO has realized the need to prepare itself for extreme emergency occurrence that could easily overwhelm its capacity to respond appropriately and adequately.
Therefore, NADMO has taken advantage of existing international mechanisms to enhance its response readiness and preparedness capacity. Officials of NADMO have collaborated with the European Union's Civil Protection Mechanism, to organize a weeklong international simulation or mockup exercise for selected personnel of all relevant institutions and agencies.
Dubbed: "Host Nation Support Table Top Exercise," the simulation was held from December 2 to 5, 2019, in Accra. It involved teams from Ghana, referred to as the Host nation and EU Consortium. Ghana's teams consisted of officials of NADMO, senior personnel of the Ghana Armed Forces, Police Service, National Fire Service, Immigration Service, Customs and Excise Division of the National Revenue Authority, Environmental Protection Agency, National Ambulance Service, and the Ghana Health Service. The EU Consortium comprised teams from the head office of the Civil Protection Mechanism in Brussels, and teams with specific expertise from countries including Germany, Austria, Spain and Romania.
Together, they provided a coordinated emergency response to a scenario of extreme flooding with loss of lives, high loss of property, affecting critical infrastructure including communication installations, the airport and road networks.
Deputy Director General of NADMO, Seji Saji, explained that "normally, in a disaster situation especially when the country is overwhelmed, we will need the assistance of various international bodies. All of them have certain procedures and some requirements, so this exercise is to test all that," he said.
Significance of the Exercise
Seji added "we are triggering the process of having people come in to assist us. We need to do a few things before and when they come in. So, we are just going through the processes and getting ready, so that in the event of an extreme disaster we will be prepared."
He said the objective of the exercise was to assist Ghana to design, plan, conduct and self-evaluate three main activities undertaken in the preparedness and disaster response management phases. "The essence is to ensure that in situations where the country is to receive international assistance, anticipated obstacles are removed as much as possible to ensure smooth disaster response operations."
In other words, when the occasion demands, by the time international assistance team comes in, all administrative procedures, should have been taken care of, for the assistance to be rolled out without any undue delays, discussions or interruptions. It is essentially to be a time for implementing action planned based on anticipated events including "injects."
Seji explained "injects" as the aftermath incidences such as an explosion or outbreak of epidemics that intensifies the impacts of the flood and call for more coordinated action on the ground.
He stated: "This exercise is going to help us review our standard operating procedures and also test our readiness and preparedness in case there is a disaster. So, we are sharing experiences, looking at best practices – what works, what does not work, what are the gaps and what needs to be done to fill up those gaps."
Again, the significance of the exercise lies in the fact that the process of granting a country's request for assistance involves several measures, according to the Technical Director of the Disaster Management Advice and Training based in Austria, Prof. Dr. Alios Hirschmugl.
The request has to first go to the European Commission, which passes it on to the Emergency Response Coordination Centre. This Centre then facilitates a consultation among member states involved in civil protection, as to whether they will be able to raise the required teams of expertise to offer the needed assistance. Once, member countries agree, the Commission informs the requesting country of the expertise and assistance that can be offered.
An officer of the Directorate-General for European Civil Protection and Humanitarian Aid Operations (ECHO), Jose Almmodovar Araez, said the exercise was important "because it is part of preparedness." It is a process that enables all participating countries know the procedures to follow if something happens, so they could be there quickly, be present to support the affected population and not waste time discussing issues.
A member of the EU Team, an Independent Consultant for Civil Protection and Crisis Management based in Austria, Josef Riener commended all the Ghanaian partners, for exhibiting a team spirit. He praised NADMO for being an efficient partner saying, "NADMO has the mandate to work for civil protection during disasters and is in a much better position to enforce, enhance and improve response for the affected population and try to reduce damages."
ECOWAS Role
A Human Security Consultant with the Pan African Institute for Development West Africa, Franklin Babila Doh, was part of the response team. He said the exercise has provided lessons for the sub-region in terms of the assistance available in a mass emergency caused by a natural disaster, which goes beyond the capacity of ECOWAS.
He observed that ECOWAS has been working a lot to create awareness on disaster risks development in the sub-region. Therefore, it has put in place some instruments to enhance disaster risk reduction collaboration in the sub-region. The instruments include the ECOWAS Disaster Response Policy, ECOWAS Response Team Regulation that outlines what can be done in a mass disaster, and ECOWAS Plan of Action for the Implementation of International Humanitarian Aid.
The exercise can be considered as a sequel to the November 19 to 20, 2019 Media Training in Accra on Disaster Risk Reduction in West Africa, jointly organised by the ECOWAS Secretariat and the UN Office for Disaster Risk Reduction and hosted by NADMO.
UN Resolution 46/182
The simulation exercise has demonstrated the need for collaborative efforts in tackling disasters in accordance with UN Resolution 46/182. It outlines the framework for providing emergency international humanitarian assistance during disasters whether natural or manmade.
By Ama Kudom-Agyemang