The approval of BT Cowpea for eventual commercial cultivation in Nigeria has been described as "a development that answers the important issue of the production, availability and accessibility of quality seeds in the Seed Value Chain, which includes scientists, researchers, farmers and industry."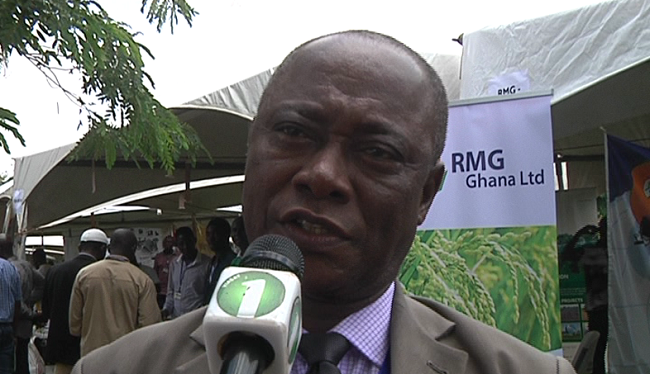 In an interview, the President of the National Seed Traders Association of Ghana (NASTAG), Thomas Havor, said, "The availability of quality seeds is crucial because, the seed – 'as in certified breeder and foundational seeds' – is the starting point in effective agriculture, which is a precondition for food security."
He explained that BT cowpea has been developed to specifically resist the "Maruca" pest, which destroys yields by boring the pods. Mr. Havor added that "this has become possible because of the scientific tool of biotechnology, which has a critical role to play in the development of quality seeds."
About quality seeds in Ghana, he noted that "insufficient quality seeds for farmers to cultivate is what has been undermining the country's food security status," and supported his assertion with statistics that pointed to the seed sector's poor performance over the years.
From 2010 to 2016 seed production for the six major food crops namely: maize, rice, cowpea, sorghum, groundnut and soyabean dwindled significantly. For instance, while the total national seed requirement for maize has been 22,500 metric tonnes, in 2010 the country produced just 4, 243 metric tonnes and production went down till in 2016 the county was able to produce only 1, 682.2 metric tonnes of maize.
In 2017, seed production begun to pick up for all the major crops and maize for example went up to 4,454 metric tonnes and in 2018 production increased to 8425, almost doubling that of the previous year.
Mr. Havor attributed this development to the Planting for Food and Jobs Initiative, but said, "Despite this increase, there is a huge room for improvement as this increase is still way below the national requirement."
He blamed the low production of quality breeder and foundational seeds on insufficient breeder seeds from researchers, which he said was "because institutions like the Grains and Legumes Development Board are severely under resourced, with weak linkage among the actors and limited infrastructure for haulage, processing, storage and packaging."
Additionally, "there is also a high level of contamination of seeds, low promotion and publicity of seeds produced, and lack of low interest rate credit facilities for farmers," Mr. Havor said.
He observed that the situation was further compounded by factors including socio-economic and climate issues. "Mass urbanisation has completely taken over urban farm lands, which served as the bread basket for major cities like Accra; too much spraying of crops with chemicals to destroy pests and diseases, and climate change effects such as erratic rainfall and droughts as well as invasive alien pests."
Mr. Havor said these reasons have made the need to use biotechnology in agriculture more urgent now than ever before. "We need seeds that are robust and can withstand the impacts of these problems," he stated, adding: "For instance, now, we need crops that are diseases and pests resistant, drought tolerant and with the potential for very high yields per small land acreages."
He was confident of Ghana's potential to produce abundant quality seeds for both national use and export to other countries in the sub-region, especially where conflicts and natural disasters have destroyed the seed base.
"This is possible," he said, "because Ghana already has in place relevant policies like the Ghana Seed Policy, which seeks to streamline the seed sector and make provision for the use of biotechnology to address issues of low yields, climate impacts, diseases and pests among other things to promote agriculture."
Mr. Havor, commended Nigeria for making significant progress in the development of the BT cowpea to alleviate the suffering of farmers, saying, "It will sustain the production of this very important food security crop across the sub-region." He was happy with Ghana's progress in BT cowpea and said, "It will revive the hope of farmers like me who cultivate cowpea."
Mr. Havor hinted that NASTAG was collaborating with key national stakeholders to build a vibrant seed industry in Ghana along government established policies, and further develop the capacity of members to produce quality seeds and promote their use. NASTAG is also in the process of developing a Directory of Certified Seed Producers in Ghana aimed at cleaning up the seed sector and will contain a catalogue of crop varieties released over the years.
A Research Scientist with the Biotechnology Nuclear Agricultural Research Institute (BNARI) of the Ghana Atomic Energy Commission (GAEC), Daniel Osei Ofosu, thinks "the approval of BT Cowpea by Nigeria means Ghanaian farmers will lose out on this huge market." But he also believed that "all is not lost as the country is in the advanced stages of introducing the same trait in the Nigerian cowpea in farmer preferred varieties in Ghana."
Mr. Ofosu agreed with Mr. Havor on the need to clean up and strengthen Ghana's seed sector, saying, "Looking ahead, our seed sector will need to be strengthened, so that fake seeds are not sold to farmers when the improved seeds become available."
A Senior Advisor to the Ghana Programme for Biosafety Systems (PBS), Prof. Walter Alhassan, says what has happened in Nigeria is going to simplify the approval process for Ghana, because it is the same event and type of cowpea that has been assessed and approved.
In an interview, he said people should not be worried that once Nigeria releases the BT Cowpea, it will spread to their countries through regional trade, "because by that time the product will have gone through all the necessary safety checks." But Prof. Alhassan pointed out that "for this to happen, the Biosafety Laws for West Africa that have been pending for the past 10 years, will first have to be harmonised."
Regarding Ghana's BT cowpea, Prof. Alhassan said once the National Biosafety Authority (NBA) receives and processes applications for its commercial release, "the NBA's immediate focus will be on production of quality seeds by the research instructions and private seed growers, in addition to training farmers to properly manage the new crop varieties."
The Director of Crop Services at the Ministry of Food and Agriculture, Osei Akoto, who also spoke on the issue in an interview, said, "Since the Biosafety Act is in place and the National Biosafety Authority is functioning, the process for developing and trading in GMOs will be streamlined and handled appropriately."
The Principal Programme Officer of the African Biosafety Network of Expertise (ABNE) of the New Partnership for Africa's Development (NEPAD), Samuel Timpo, sees the development in Nigeria as a signal for Ghana to beginning answering questions such as: "How will major national research institutions like the CSIR position themselves to be producers of quality and quantity breeder seeds for Ghanaian farmers, so that Ghana will be in-charge her own seed sector?"
Cowpea or "black eye beans" is considered the most important food grain legume in sub-Saharan Africa, and a major source of protein, iron and fiber. The crop is also a good source of quality fodder for livestock and is grown on over 12.5 million hectares and provides cash income for families. However, cowpea production faces lots of challenges such as infestation by the insect pod bearer, which alone causes yield losses as high as 80 %, ineffectiveness of spraying, low per hectare yields, and poor agronomic practices.
To effectively address these challenges, the PBR Cowpea Project was initiated to develop and distribute to farmers preferred and locally adapted pod borer resistant cowpea varieties in sub-Saharan Africa." The project was started in Purdue University, Indiana, USA, in 1997, and subsequently, the African Agricultural Technology Foundation (AATF) obtained the technology royalty free. This means even though farmers will of necessity have to purchase seeds for each round of cultivation, they will do so from a nationally generated seed stock.
By Ama Kudom-Agyemang