The Small Grants Programme (SGP) of the Global Environment Facility (GEF) in Nigeria has supported the conservation of over 500 indigenous plant species in the country.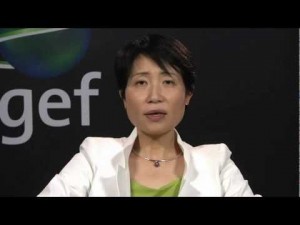 The GEF-SGP, which is being implemented by the United Nations Development Programme (UNDP), has also sustained the establishment of Community Forest Management Committees and capacity building for forest protection, which seeks to enhance indigenous knowledge of biodiversity and revive interest in traditional medicinal values of plants species.
UNDP Country Director, Ade Mamonyane Lekoetje, who made the disclosure recently in Abuja during a workshop on capacity building and knowledge development, disclosed that the programme has also supported over 20 climate change mitigation projects addressing awareness creation and teaching simple techniques of rain water harvesting to reduce stress of water and impact of drought; supported Pitcher Irrigation technology for farming; tree planting to regenerate forests which act as sink for C02 and fuel efficient stoves to reduce consumption of fuelwood.
She said: "A total number of 69 projects have been supported to date in 23 states of the federation with a total grant amount of $1,897,869 and $1,370,376 in co-financing.
"Based on the results of these community efforts, two of the projects have won international awards, two have also benefitted from other donors even as the project demonstrate collaborative effort between NGO, community and private sector to address pollution. At least six SGP projects have been either scaled-up or replicated because of their direct contributions to relevant multilateral environmental agreements. Over 50,000 poor rural dwellers, (65 percent women and 35 percent men) have benefitted directly from the projects. Fifty percent of communities have either never experienced or benefitted from any development support or participated in such a way as allowed by SGP."
According to her, the SGP has also supported projects in several states to address erosion,  loss of farmlands to boost food production capacity for modern farming techniques, tree planting, as well as establishment of Skills Acquisition Centre to train beneficiaries  especially women, widows and youth on Alternative livelihood activities in order to discourage unsustainable land exploitation.
Head of the organisation in Nigeria, Olabisi Jaji, said the GEF, which was launched in 1992 as a funding window designed specifically for NGOs (non-governmental organisations) and CBOs (community-based organisations) has, through its SGP, made 14,000 small grants directly to these organisations in its 182-member countries.
The programme entails four categories such as full-sized projects (which are from $1 million and above), medium-sized projects (up to $1million dollars), enabling activities ($500,000, $250,000 and $150,000) and small grants (maximum of $50,000).
Climatologist, Prof. Olukayode Oladipo, called on governments around the world to ensure that they pay attention to the United Nation's declaration on sustainable development, economic growth and human environment which, he said, would lead to economic transformation of their states.
Principles of the UN declaration, according to Oladipo, want states across the world to cooperate and strengthen endogenous capacity-building for sustainable development by improving scientific understanding through exchanges of scientific and technological knowledge and by enhancing the development, adaptation, diffusion and transfer of technologies, including new and innovative technologies.
To achieve sustainable development and higher quality of life for all people, states were advised to eliminate unsustainable patterns of production and consumption and cooperate to promote a supportive and open international economic system that would lead to economic growth.
Permanent Secretary, Federal Ministry of Environment, Taiye Haruna, said NGOs/CBOs have greater roles to play in achieving the objectives of sustainable development and that the huge task facing the world is to determine how to overcome environmental challenges including restoring the natural resources, achieving human health protection and designing strategies to allow for future growth, while protecting the environment, maintaining biodiversity, safeguarding human health and preserving cultural and social values.
"There is no doubt that NGOs/CBOs are making great strides in meeting the environmental challenges, though difficulties and tensions remain common. We all should strive to tackle the environmental challenges facing the nation," he stated.
Meanwhile, Dr. Naoko Ishii, CEO and Chairperson of the GEF, has hailed the 25th anniversary of the signing of the Montreal Protocol on Substances that Deplete the Ozone Layer. According to her, it is a landmark international agreement to protect the earth's ozone layer and demonstrates the global benefits that can flow from concerted effort and cooperation to address environmental threats.
The ozone layer in the earth's upper atmosphere protects living things from harmful ultraviolet rays from the sun. The phase-out of industrial chemicals under the Montreal Protocol has resulted not only in the recovery of the ozone layer but also has reduced greenhouse gas emissions that contribute significantly to climate change.
The GEF-SGP is the third component of the GEF which provides grants to poor and marginalised communities through national NGOs/CBOs to implement local environmental initiatives that also enhance their livelihood while achieving global environmental benefits. GEF-SGP operates in five focal areas of Biodiversity, Climate Change, Land Degradation, International Waters and Persistent Organic Pollutants. Many of the projects are pilot in nature to demonstrate feasibility of environmental initiatives through community effort to achieve global environmental benefits.