"Community women bear the brunt of environmental cost of the relationship and transactions between large corporations and community leaders and government to explore and exploit oil and gas mineral resources available in our land," said Chief Emem Okon the Executive Director, Kebetkache Women Development and Resource Centre, a non-governmental organisation (NGO) based in Port Harcourt, Rivers State.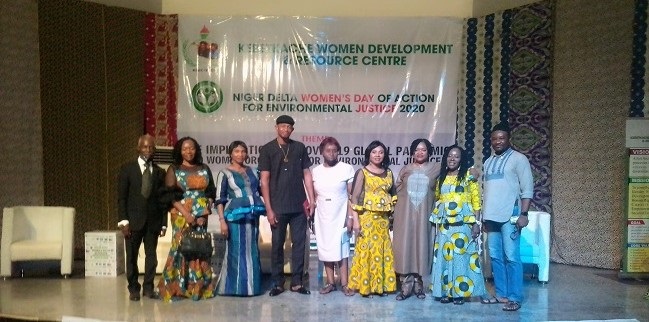 She made the declaration in a welcome address she presented at the opening session of the 4th Edition of the Niger Delta women Day of Action for Environmental Justice held at Uyo, Akwa Ibom State on December 17, 2020.
"Huge profit is made whereas the people, particularly women, live in poverty. This is the problem," she lamented.
Chief Okon, a development worker and a gender expert, defined environmental justice as "the fair treatment and meaningful involvement of all people regardless of race, sex, colour, national origin, or income, with respect to the implementation and enforcement of environmental laws, regulations and policies.
Environmental justice, she added, also "demands that public policy be based on mutual respect and Justice for all peoples, free from any form of discrimination or bias".
She described the Niger Delta Women's Day of Action for Environmental Justice is "a platform for women to reflect on their experiences, expectations, concerns and challenges posed by oil extraction activities in the Niger Delta".
Chief Okon called "for universal protection from oil and gas extraction, production and disposal of toxic/hazardous waste and poisons that threaten the fundamental right to clean air, land, water, and food."
She decried the "injustice, that inequality, which does not promote development and peace", adding "that the situation should be closely examined, and drastic measures adopted to address them."
Also speaking at the event Mr. Henry Oshie of OXFARM Nigeria said that "when women do not speak the society is silent". He then encouraged women to speak out. He also encouraged women to leverage on available funding opportunities open to them.
Chief Okon, then advocated for "policy changes in the budgetary provisions that will address the needs and concerns of women. Palliatives that are gender sensitive and active citizenry that will promote gender and accountability to a clean environment".
She explained that "the United Nations policy brief says COVID-19 pandemic is deepening pre-existing inequalities, exposing vulnerabilities in social, political and economic systems which are in turn amplifying the impacts of the pandemic.
Women, she said, "are more likely to be employed in the informal sector and they are less likely to access social protections and are majority of single parent households".
Professor Asuquo James in a keynote address titled "COVID-19 Global Pandemic, Climate Change and Environmental Justice in the Niger Delta Region of Nigeria" discussed food security and insecurity and how it affects women.
According to Prof. Asuquo, women and girls make up 60% of the world chronically hungry and little progress has been made in ensuring the equal rights to food for women and girls as enshrined in the convention on the elimination of all forms of discrimination against women.
Women, Prof. Asuquo said, "face discrimination both in education and employment opportunities".
According to him, COVID-19 has brought about disruptions in domestic food supplies/chains; shocks affecting food production; loss of incomes/reduction of incomes; no remittances as well as price inflation at the retail level. He also lamented about "the rising food price for the low- and middle-income countries or people".
While speaking on women livelihood, Prof. Asuquo said: "This is a way to enhance women future prosperity by increasing their ability to successfully manage their own livelihood options and improve their food security.
"It also involves empowering women so that they can generate their own income and become empowered in all aspects; social, economic and political. Of the estimated 1.3 billion people that live in absolute poverty globally, 70% are women. Women account for just 10% of the world's income and own less than 1% of the world's property."
Gender equality, he continued, is important, not only as a human right, but also because women have a key role to play in sustainable development and achieving the sustainable development goals.
"It is therefore our place to sensitise women on their rights, increase their access to credit and ensure their participation in the development processes," Prof. Asuquo stated.
Other options, he added, "include access to financial resources such loans, insurance for families who are vulnerable to negative shocks, such as natural disasters, illness or unforeseen circumstances, COVID-19 being an example."
In a contribution, Prof. Robito Ekpiken-Ekanem, while reaffirming what the previous presenter said, advocated that, "we can break gender norms in childhood, work with religious and traditional leaders, and encourage employers to hire inclusively, women, implement gender laws. Give women access to capital, recognise informal workers like househelp, and make women travel safer, end violence against women at home and at work."
Prof. Ekanem also urged the government to "use emergencies like the COVID-19 pandemic as an opportunity to look at the wider inequality in Nigeria".
By Dandy Mgbenwa