Barely a month after the nation's climate chief interfaced with a group of youth representatives, a scholarly forum has underlined the role of youngsters in addressing one of planet earth's greatest challenges yet.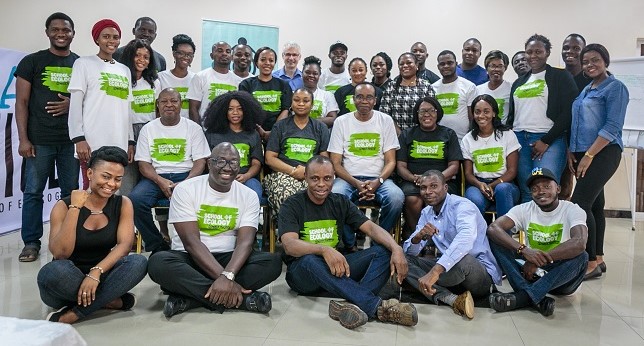 At a Roundtable in Abuja on Friday, June 7, 2019, Dr Peter Tarfa, Director, Department of Climate Change in the Federal Ministry of Environment, was confronted with a barrage of demands by youths concerning their relevance in tackling the climate scourge. Tarfa had urged them to, among others, see the phenomenon more as an opportunity.
In Uyo, Akwa Ibom State at the 3rd session of her School of Ecology that held from July 8 to 10, youth involvement was once again a key area discussion during the Health of Mother Earth Foundation (HOMEF) organised event that focused on "Climate Justice".
Scholars, at the close of the forum, underlined the need to build critical youth movements across the country to advocate for climate action.
Besides stressing that educational curriculums should include energy transition, climate justice, renewable energy and agroecology, participants suggested that multi-stakeholder engagements such as dialogues, protests and possible mitigations, should be embraced to provoke climate action.
The scholars frowned at the prevalence of fossil fuel energy, calling on Nigeria to quickly take steps towards a renewable energy future and clean energy technologies.
The gathering likewise clamoured climate change solutions "that address the root of climate change" and rejected "all false solutions including market-based ones such as REDD+, Carbon Trading, Carbon Capture, Geoengineering and Genetic Engineering masked as Climate Smart Agriculture".
The scholars submitted in a communique: "A major reason we don't have appropriate climate action is the influence of corporate interests. To achieve climate justice, we must change our system – our social and political relations.
"Gas flaring must be stopped. There should be no more shifting of flare-out deadlines. Polluters must be made to pay commercial value of gas as an encouragement to halt bad behavior.
"We should promote and fundamentally shift towards Agroecology to ensure resilience to the impacts of climate change and the stabilisation of the climate by reducing CO2 emissions in the atmosphere.
"We must urgently install mass transit systems and promote the use of renewable energy cooking and storage equipment for women and communities.
"We must rethink our idea of development which is now measured based on Gross Domestic Product (GDP). Our thinking should focus instead on the wellbeing of the people with dignity and fairness for humans and the rest of nature.
"Civil society organisations (CSOs) should monitor our Nationally Determined Contributions (NDCs) to ensure their effective and timely implementation for climate action."
The school had featured intense interactions and interrogations on issues of climate change – the impacts, major contributors, the politics, false solutions – and the way forward for climate justice.
Scholars were selected through a very competitive process and included university students, professionals, climate change activists, and CSOs from across the country. The session also had representatives from the Akwa Ibom State Ministry of Environment and from the Climate Change Department of the Federal Ministry of Environment.
At the opening of the session, Mrs Comfort Asuquo representing the Akwa Ibom Ministry of Environment remarked that the event was apt and timely. She noted the ministry was concerned about the issue of climate change and, as part of actions to address it, a department was created recently specifically for issues of climate change and that sensitisation was ongoing.
Mrs Iniobong Abiola-Awe, Deputy Director at the Climate Change Department of the Federal Ministry of Environment, gave a presentation on "Climate Politics (The UNFCCC, COPs, National Actions and Climate Finance)". She pointed out that although the issues of climate change are global, local actions must be taken seriously. She added that it is essential for climate activists to have accurate information about public climate action and that the offices of the Department of Climate Change and the Ministry are open to give such information.
Director of HOMEF, Nnimmo Bassey, in a welcome remark quoted the words of Thomas Sankara: "You can fight effectively only against things that you understand well, and you can't win unless you are convinced your fight is just." He explained that youths have a duty to understand the root causes of climate change, to understand the unjust distribution of its impacts and why just solutions must be implemented.
He added in his presentation on "Climate Justice: Grassroots Solutions, Energy and Resource Democracy, and Systemic Change" that placing monetary value on nature locks in the market mindset promotes insatiable consumption of its resources and encourages further destruction. He called for a collective concern and for effort to build wellbeing and to free the world of all forms of exploitation.
Amongst several other presentations, Duncan McLaren, a professor at Lancaster University, United Kingdom, and Ken Henshaw, a researcher and consummate activist, spoke extensively on false solutions to climate change such as geoengineering, carbon trading, genetic engineering, REDD+, as well as on the well-being economy. They pointed out that efficient solutions are those that tackle the issues from their roots – which is predicated on the elimination of greenhouse gasses emissions by fossil fuels-based activities.
Babawale Obayanju, an environmental justice campaigner and communications expert, spoke on "Climate Action: Youth Engagement and Environmental Justice Defence". He stated that youths must do more in advocating for climate justice as their future is seriously threatened. He added that to encourage youth activism on climate justice there must be extensive environmental education and capacity building.
On the way forward for climate justice, Ifeoma Malo, Executive Director of Clean Technology Hub, Nigeria and country director of Power for All, spoke elaborately on the need to transit to renewable energy use and on practical steps towards it. According to Malo, the world is fast moving from the use of fossil fuel energy and soon there will be no market for our oil. She advised that Nigeria must quickly take steps towards setting up renewable energy alternatives such as solar energy systems.
Joyce Ebebeinwe, HOMEF's Project Officer, speaking on "Hunger Politics" also underscored the need to adopt and promote the Agroecology system of agriculture as, according to her, this has been demonstrated to ensure increased food productivity, economic stability and climate resilience.