A global environmental organisation has called on nations to promote the planting of high value trees and agroforestry to avert food insecurity and climate change across the globe.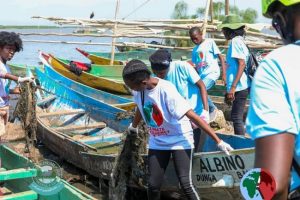 Food insecurity is the latest threat to healthy living, giving rise to a myriad of health conditions globally.  The Environment Protectors' Alliance (EPA), a global environmental organisation, has asked individual nations to come to the rescue of their people by engaging in climate friendly activities.
The call was made during the organisation's global webinar dubbed, "Food Security and Climate Change".
Mr. Martin Mulenga, Zambia's Green Cosmos founder, while speaking at the forum, urged countries to embrace and recognise the relationship between climate change and food security.
"There is a profound interconnection between climate change and food security. For a promising and greener future, individuals must come out and engage in climate friendly activities. The future of our communities is dependent on our environmental actions today," said Mulenga.
While addressing the issue of food security with regard to climate change, Mr. Mulenga asked nations to promote the cultivation of high value trees and agroforestry as key pillars in the war against food insecurity and climate change.
"Trees such as fruit bearing species and nut trees not only offer nutritious food options but also sequester significant amounts of carbon dioxide, hence contributing to climate change mitigation efforts. This move will empower farmers while boosting climate resilient practices," said the environmental activist.
Speaking at the forum, Nigeria's ecological conservationist, Ojumude Tosan Bishop, decried the low response of different governments to food crises leading to starvation and death.
"Every nation can feed her people. It is time nations went to the drawing board to tackle the main causes of food insecurity and climate change. It is time for climate action and not rhetoric," charged Ojumude.
Across the globe, many nations are grappling with bad weather and hunger occasioned by unreliable weather patterns and unhelpful human activities.
Ron Durie, founder of Kenya's Petals of Afrika, insists that governments are largely to blame for food insecurity. He insists African governments have what it takes to contain the challenges of climate change by designing climate resilient programmes.
"The rising temperatures, irregular rainfall patterns and technological advancements are some of the causes of food insecurity. It is time the government allocated funds to contain these challenges," Ron said, while addressing a climate youth forum in Nairobi.
In a report released by Environment Protectors' Alliance (EPA) last week, it was reported that land degradation and deforestation continue to expose ordinary communities to hunger and vulnerable situations.
"Land degradation and deforestation continue to expose communities to hunger. These practices lead to reduced agricultural output from the rural regions, disrupting agricultural practices, diminishing crop yields hence threatening food availability," said Basil Okoth, the organisation's operation director.
Mr. Mulenga stressed that market fluctuations, inefficient supply chains, inadequate access to credit and lack of high-quality seeds are the greatest hurdles towards achieving healthy nations.
"Regrettably enough, these are challenges that can exclusively be dealt with by heads of governments. We must restore degraded lands through tree planting initiatives, emphasizing the potential for carbon sequestration and habitat restoration," he said.
The global environmental forum underscores the importance of restoration activities such as transforming barren lands into productive ecosystems, enhancing biodiversity and improving water resources.
"The fight against climate change and food insecurity must be approached holistically. Reforestation activities offer a multifaceted approach that not only address food security but also bolsters climate change mitigation tendencies," said Ojumude Tosan.
Africa continues to bear the burden of the climate crisis and creating meaningful awareness among nations is not just important, but also necessary in keeping intergenerational knowledge and continuity in the fight against climate change and food insecurity.
"Nations must embrace the involvement of the youth in climate change mitigation strategies. The youth are very energetic and informed. They can challenge and influence policies that affect climate in Africa. It is their duty to protect the environment for generations to come," said Dr. Mithika Mwenda, the executive director of Pan African Climate Justice Alliance (PACJA).
The global call by the environmental body comes only a week after the world celebrated "The Climate Emergency Day" where climate activists asked governments to initiate the transition to renewable energy. The proponents of clean environment warned that devasting effects await countries who do not take urgent measures to address climate change.
The latest call comes in the wake of reports human activity and climate change continue to disrupt natural water cycles, putting freshwater ecosystems under strains.
By Stephen Misori