How to attract private investment to catalyse the renewable energy and energy efficiency sectors to help Nigeria address its epileptic power challenge and achieve its energy transition plan continues to be a source of worry for industry experts. Etta Michael Bisong examines some of the issues impeding private sector participation in the sector as well as what experts believe can be done to tackle the problem and help the country achieve energy independence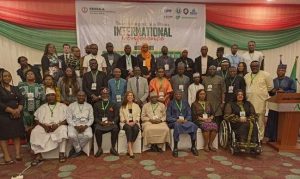 The issue
Epileptic power supplies have slowed development and killed many businesses that rely on electricity across the country. For example, Nigerians spend approximately $20 billion per year on petrol for generators.
With the nation's population rapidly expanding and energy demands increasing, it has become vital for the country to diversify its energy sources and employ sustainable and efficient solutions. Currently, 200 million Nigerians rely on 3,500 megawatts, which is extremely insufficient, necessitating tenacious measure to effect any meaningful transformation.
This issue has long been blamed on a lack of proper planning and coordination in the industry. A situation in which Nigeria generates 12, 000 megawatts of energy, transmits approximately 8, 000 of it, and only distributes a small portion of 4, 500 megawatts to end users clearly demonstrates the sector's urgent need for attention in order to scale up.
Renewable energy has been deemed the most proactive solution to tackle the problems of electricity instability across the globe, and Nigeria is no exception. The country has a fantastic opportunity to stimulate and address the issues that touch on energy access, affordability, and environmental sustainability thanks to these eco-friendly energy sources.
However, using renewable energy and energy-saving technologies to achieve energy independence is not just a goal; it is a tactical necessity. Nigeria must therefore implement specific measures in order to realise its energy transition plan and ensure equity in supply access by utilising renewable energy and energy efficiency.
Experts' perspectives and solutions
In response to growing public concern about the need to address the aforementioned issues, the Renewable Energy and Energy Efficiency Association Alliance (REEEA-A) convened stakeholders in Abuja on Monday, July 24, 2023, to brainstorm on how to accelerate private sector investment in the renewable energy and energy efficiency landscape.
The group, which included experts from the financial sector, civil society organisations, government agencies, and development partners, acknowledged the importance of private investment in the development of Nigeria's energy industry.
Several organisations, according to the body, have been deploying private capital for more than two decades to promote various clean energy initiatives across the country. According to the stakeholders, the emphasis should be on addressing the regulatory barriers that scare investors away and creating an enabling environment for them to thrive in their efforts to scale up the sector.
Muhammad Wakil, the country delivery lead for Nigeria at the Global Energy Alliance for People and Planet (GEAAP), said that one way to overcome some of these obstacles is to assist private sector players in receiving direct support on both the supply and demand sides of the energy market.
This is significant, he explained, because these sectors require increased investment and funding, and the top priority right now is to ensure that local currency in the country finds its way into the renewable energy space rather than simply waiting for unreliable foreign investment.
Wakil, who stated that there are numerous funds in various commercial and investment banks throughout the country, urged that the discussion also focus on how to help unlock such capital to meet the financing needs of the renewable energy and energy efficiency communities.
"For various reasons, these funds have not been able to make their way into the sector," he said, adding that there is a need to find a way to free up that money and see how to encourage commercial and investment banks to use their funds to address the sector's urgent financial needs.
Now that there is a new constitutional amendment in the form of the Electricity Act 2023, the energy advocate expressed concern that if these barriers are not addressed quickly, they may spread across the 36 states of the federation, which will truncate the country's just energy transition.
Mr. Dele Faseemo, Group Head of Energy at Sterling Bank, believes that the power sector needs to be liberalised rather than privatised to attract private investment to scale up the renewable energy sector.
Faseemo, like the previous speaker, assured that there are various private funds available that can be channelled into scaling the sector; however, such capital, he noted, will only go where there are guaranteed returns.
"So the regulatory and policy environment must be very clear so that people can know from day one that if I put a certain amount of my money here for a certain period of time, I will get it back," he said.
For him, the discussion should centre on why Nigerians aren't using renewable energy to power their homes and businesses, despite its potential. As a result, the basis for determining whether Nigeria is progressing in its energy transition programme, he continued, is for 90 percent of its people to switch to renewable energy.
"If we have at least a 15% uptake of renewables within us to supply ourselves, then we will know where the problems are coming from, whether it is financing, local content, policies, and so on," he said.
The energy finance expert believes that if private investors can be assured that they will not be caught up in a policy storm and that things will remain consistent with the new Electricity Act 2023, which is the first step towards liberalising the sector and has given some prominence to the renewable energy mix, it will go a long way towards assisting Nigeria in meeting its energy objectives.
"And I believe there is sufficient capital, both locally and internationally, that is attempting to find its way within this space," he testified. .
Mr. Duke Benjamin, Head of Programme, Nigerian Energy Support Programme (NESP), is certain that the government has enacted a number of policies and regulations to encourage private sector participation in the industry; however, he has identified a gap between these laws and Nigeria's fiscal policies.
So, according to Benjamin, who was represented at the event by Joshua Garba, the first step towards resolution is to look for ways to align these already established laws and see how they can be integrated into the nation's fiscal policies and economic recovery plan.
If I may suggest it, "I think that is the first place we should start from," he said.
He claims that the country is having trouble streamlining its import processes for renewable energy and energy efficiency technologies because there is a lack of coordination between these policies.
"These things are beautifully captured in energy policy," he said. However, he lamented that they are not reflected in Nigeria's fiscal policy or even the economic growth recovery plan.
Private investment and renewable energy growth
In Nigeria, private capital has been accessed in the sector through two channels: supply and demand, though the supply-side model has received the majority of funding.
However, the lack of clarity and unification of regulatory policies continues to be a significant impediment that must be overcome in order to achieve the anticipated scalability across the entire renewable energy value chain. Yes, the journey has begun; however, it is important to consider some of these barriers to be able to attract private capital.
On the demand side, removing subsidies is a step in the right direction. As long as people see alternatives on the grid as well as in petroleum products, adoption of renewable energy solutions will be limited, and the country's pursuit of energy access, affordability, and environmental sustainability will be thwarted.
To make it more accessible to the general public, "we will encourage capital owners and businesses that are so inclined to leverage their own capital, and that is exactly what we at Sterling are doing," Faseemo said.
Sterling Bank, he revealed, solarised a 17-story building in Lagos to show people that what they are asking them to do is doable.
"All we're saying is that if you believe in it and then put your money behind it, the market will reward you in the future," he promised, emphasising that if others are as convinced as Sterling is, Nigerians will begin to see the scaling that has been discussed.
Models that can help unlock the renewable energy industry
Despite the fact that the funds are available, many industry players are having a very difficult time getting access to private capital. The question everyone should be asking is: why are other banks not following the path of sterling?
Ms. Ifeoma Malo, Chief Executive Officer of Clean Technology Hub (CTH), stated that the problem is that the sector is highly donor-driven, and a lot of the players don't want to take up equity because there are donor funds that are awash, which reduces risk appetite and makes it very low.
And, according to her, it is critical to understand that when speaking with donors and financiers, these are two separate conversations. It's even more noticeable when you're speaking with donors from outside the country.
For example, she observed that when speaking with a donor from outside the country, topics such as decarbonisation, the environment, and climate change are discussed. Some people are unconcerned about that; they are more concerned with electrification. Commercial banks, she explained, don't care about that; they just want to know when they'll make a profit and what their return rate will be.
"I think it's high time we educate our own sector on how to have an effective conversation, depending on who we're asking for money from," Malo said, emphasising how important this is because "we make the mistake of having both conversations with every possible financier."
Nobody will give you money; she pointed out, because it doesn't work. Donors may give you money, but the people who have big capital "will not give you money because you are not speaking the language they want to hear."
"When we talk about business models, we should look at commercial banks because they are sitting on top of money and refusing to lend," the CTH CEO suggested.
Nine winning solutions to unleash renewable energy development
At the conclusion of the one-day solution-driven meeting, titled "Accelerating Private Investment in the Renewable Energy and Energy Efficiency Sector," stakeholders identified nine winning solutions that, if adopted and successfully implemented, have the potential to scale growth and transform the sector.
One of the solutions they identified is to begin funding more projects with local naira and leverage the growth of community-based developers in off-grid communities.
The expert group also advocated for technical assistance and capacity-building accelerator programmes for renewable energy entrepreneurs and developers, revenue guarantees to support and fund large-scale solar projects, and payment mechanisms to support clean energy expansion.
Other quick wins include policy recommendations to increase social acceptance for Nigeria's use of natural gas as a transition fuel and leveraging the recently passed Electricity Act by engaging the 36 states to integrate electricity within their states to generate power.
Accelerating investment in the emerging green hydrogen space, Electric Vehicle (EV) opportunities in Nigeria, and quick wins, as well as the development of carbon market opportunities and revenue, are some of the other solutions recognised.
According to Prof. Magnus Onuoha, President of the REEEA-A Governing Council, a lot can be accomplished with adequate financing, investment, and support from the government and all relevant stakeholders to transition from the current abysmal electricity supply to a more sustainable alternative.
He contends that in order to allow the market forces of supply and demand to operate in the energy sector, which is still developing and is not receiving government subsidies, there must be equity for all parties involved.
"By the time you see the competition and people are no longer interested in getting fossil fuels, they will go into renewables with time, and they'll be forced by the interplay of demand and supply," Prof. Onuoha asserts.
Conclusion
It is common knowledge that energy is the lifeblood of any economy, and Nigeria is no exemption.
In its pursuit of energy independence, particularly electricity sufficiency, the country must foster innovation, utilise and invest in domestic resources, and create a favourable environment to meet its sustainable energy demands and objectives. This is because energy independence is a strategic necessity rather than an aspiration.
So, this is the reason it is essential for the country to utilise its enormous energy potential to achieve energy independence and address its developmental albatross.